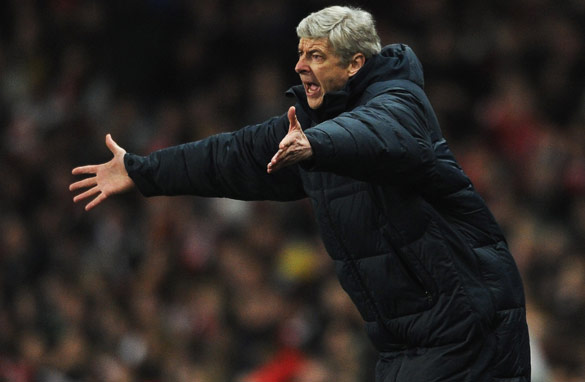 Arsene Wenger's long wait for another trophy goes on after Arsenal's League Cup final defeat to Birmingham City.
As I watched Arsenal surprisingly lose the English League Cup final to Birmingham on Sunday, I remembered an old tale from Hans Christen Andersen called "The Emperor's New Clothes."
You may know about this story from the legendary Danish writer which illustrates how intellectual vanity can lead someone into believing in something that everyone else can see is not true.
In my perspective, Arsene Wenger is guilty of this behavior, and let me be the one to point out and say, "but he isn't wearing anything thing at all, he's naked!"
Enough is enough. I can imagine this is what most Arsenal fans around the world are saying at the moment.
As the Gunners contemplate a sixth straight year without any silverware, surely they have to question the methods of a man who has lived off his past glories for too long. A man who must see that he needs to change his philosophy or risk leaving the Emirates Stadium through the back door.
In the final minute at Wembley, when 20-year-old goalkeeper Wojicech Szczesny and 25-year-old central defender Laurent Koscielny made a mess of a loose ball, leading to Obafemi Martins' winning goal, I thought to myself: "Once again, kids lose out to men."
In Sunday's final, the average age of Arsenal's back five (goalkeeper and four defenders) was 24.4 years. How many teams around the world have won anything with a defense that young? Not many. This is the main reason why Arsenal haven't won anything since 2005 and the reason they won't win anything again this season.
In my view, the finger of blame has got to be pointed at Wenger. Is he a good coach? Yes. Should he be respected? Yes. But he has now proven all too often that his obsession for young promising players has not translated into titles. How much longer are Arsenal going to put up with this trophy drought? The board should take a stand.
Recently I had the chance to speak with Patrick Vieira about his former club. He told me, during a short interview, that he felt sorry for Arsenal because they were missing a couple of key ingredients.
He admitted they needed some more experience. Personally, I thought Wenger should have taken his former midfield talisman back to London instead of letting him go north to Manchester City.
The Frenchman would have been a great addition to Arsenal's squad. Just like many other experienced central midfielders like Anatoliy Tymoschuk, Mahamadou Diarra or Mark van Bommel would have been.
Or even better, a proven international center-back like Matthew Upson, Richard Dunne or Fernando Meira. All players who were available over the last couple of seasons for a reasonable price and who would have added mettle and muscle to a back line often too easy to beat.
Another position Wenger should have strengthened is goalkeeper. Surely he would have seen by now that as talented as his young keepers are, they are not experienced enough to lead a young defense.
Surely he would have seen that spending two or three million pounds on someone like Mark Schwarzer would have been a good investment. But no, apparently he didn't, and the result is once again, the same. So close, but no cigar.
I know many of you are thinking that I am overreacting and that the recent victory over Barcelona proves that Wenger is on the right track. I don't agree.
There is no doubt that this team has many talented individuals and they will shine at times like they did against the Spanish giants. However, consistency wins titles, and this team cannot beat Barcelona and Chelsea and then lose to the likes of Braga and Birmingham if they are to be serious contenders.
One final word about the 2011 League Cup champions. With limited resources, Birmingham fought valiantly and deserved their victory on Sunday.
Ben Foster was colossal in goal and veterans like Lee Bowyer, Stephen Carr and Barry Ferguson were extremely influential - just the kind of players the Gunners desperately need.
So I say Mr. Wenger, the expensive clothes you say you are wearing don't exist. Your team isn't winning and your philosophy isn't paying off. It's time for a change.