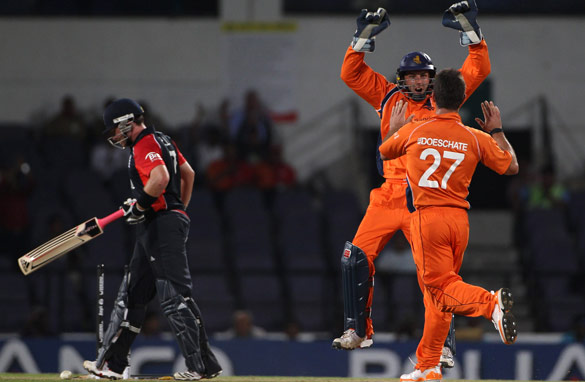 The Netherlands tested England before losing their opening match of the 2011 Cricket World Cup. (Getty Images)
The International Cricket Council has decided that the 2015 World Cup will involve just 10 teams – four fewer than this year.
It's a decision which has been endorsed by Australia captain Ricky Ponting, who believes the so-called "minnows" of the game just aren't competitive enough and that one-sided matches compromise the tournament.
Cricket is a massive sport, but its popularity is restricted to certain pockets in the world. For many people outside these areas, the game is like a foreign language – very difficult to understand. So shouldn't organizers be trying to encourage cricket's global growth rather than discourage it? It is called the "World" Cup, after all!
Yes, Kenya and Canada were crushed in their opening matches, but the Netherlands did themselves extremely proud by giving heavyweights England a real scare.
By having some of the lesser cricket nations involved, it's simply more interesting because it's not just about the usual suspects. It adds the element of the unknown, and keeps the Test nations on their toes!
Ponting says he's not sure how much a team can learn from being on the receiving end of a thumping – but I don't agree. I'm sure that Kenya took quite a lot from the 10-wicket loss to New Zealand, despite scoring only 69 runs, and will come out stronger and more experienced next time. At least they'll get the chance to show what they can do. At the next tournament in Australia and New Zealand four years from now, they'll likely be watching from afar.
As a trade-off, the ICC has said the World Twenty20 competition will expand to include more nations – but as any cricket fan knows, this form of the game is more for entertainment value than anything else. It's short, sweet and spectacular – but not cricket in its purest form and it's not going to help produce top-level one-day or Test cricketers.
So the longer forms of the game will continue to be dominated by the same old teams, and the gap between rich and poor will grow larger. How can the Associate nations compete when they are not given a chance to play on the global stage against the best teams in the world? What motivation will children from these countries have to play cricket?
The minnows likely wouldn't be minnows if they played the bigger teams on a more regular basis. I would argue that just playing at the World Cup isn't enough – but for the ICC it seems to be too much!