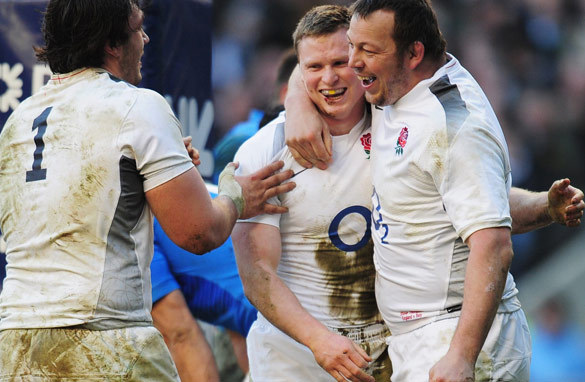 England are fired up after winning their first two Six Nations matches against Wales and Italy.
When you say you don't like your opponent, just days before a potentially championship-deciding match, it's going to create a stir. But I believe England's rugby players couldn't care less about Marc Lievremont's provocative remarks.
Not only did the France coach express his dislike for England, he also claimed the other four teams in the Six Nations tournament felt the same way. According to Lievremont, his cross-channel neighbors are "insular."
Speaking to England manager Martin Johnson, scrum-half Ben Youngs and try-scoring sensation Chris Ashton at a team bonding exercise last week, there was a very dispassionate response when I raised the subject of the French.
There were slight smiles at first. They mentioned the unpredictable nature of French rugby; how Les Bleus, at times, mix brilliance with ordinariness. But England's boss and his players assessed France's strengths and weaknesses no differently to any other side.
Although my interviews happened before Lievremont's news conference, none of the comments from the England camp since then have been any different. Johnson and his men know there is history between the two countries but their attitude seems to be, why add to the hype when it's a big-enough match as it is?
With the 2011 Rugby World Cup looming in the background, it's a crucial period for both sides, but especially England. France, at least, have won trophies in recent seasons. They are the reigning Six Nations champions and Grand Slam winners.
In contrast, England won't need reminding they haven't won the competition since 2003. Johnson was still playing then, and captain of the team that went on to lift the World Cup that year. That was why his appointment as manager was greeted so enthusiastically in 2008.
For the first time since then, England are showing signs they could match the achievement of the side that Johnson led to glory in Australia eight years ago.
On the day CNN filmed the squad, there was a lot of friendly banter as England's players drove Land Rovers around a test track. They were loudly ribbing each other, the way only good mates can. It was a fun day out more than an exercise because the team spirit is clearly very good already.
In that controversial media briefing, Lievremont also said France and England have nothing in common. When it comes to rugby performances, he may soon wish the opposite were true.