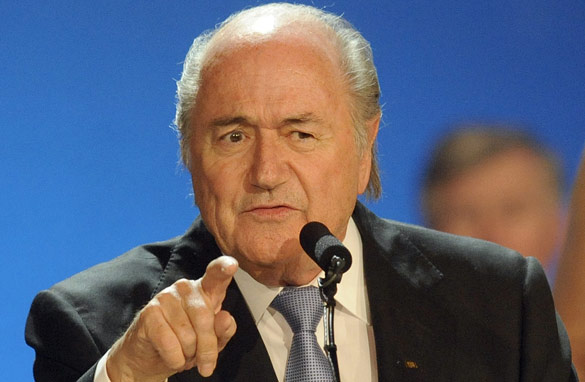 Sepp Blatter may face an unlikely opponent at this year's FIFA presidential elections. (AFP/Getty Images)
The bid by Grant Wahl to oppose Sepp Blatter in this year's FIFA presidential election might seem like a humorous act of self-publicity by the Sports Illustrated magazine journalist, but it's very much in keeping with the spirit of the times.
I'm not putting the battle for world football's top job on a par with the life and death struggle for democracy in the Middle East, but the tide of people power sweeping through countries such as Tunisia, Egypt and Libya can't help but inspire a "we can" mentality among some of us watching the drama unfold.
The FIFA election to find a leader for football's world governing body is politics not sport, and the "why them and not us?" attitude has been prevalent in the political world for years.
In my native Britain, for example, I well remember a habitual parliamentary candidate by the name of Screaming Lord Sutch, who contested a number of elections as the leader of the "Monster Raving Loony Party." Did he ever have a chance of winning anything? No! However, apart from the comic relief factor, his mere presence helped puncture the pomposity of the whole electoral process and perhaps made some people think more about the real issues by creating a ridiculous alternative.
In the United States, Ross Perot twice ran for president as an independent candidate without having any realistic chance of winning. However, his entry at least challenged the status quo and provided a choice, perhaps forcing traditional candidates to work harder at proving their policies were indeed any better than those of the red herring.
In film, the ultimate example of a maverick candidacy was in the movie "Brewster's Millions," in which minor league baseball pitcher Monty Brewster, played by Richard Prior, used part of his inherited fortune on a mayoral campaign in New York as leader of a party he named "None of the Above." The premise being that none of the candidates truly had the good of the people at heart, so why not vote for None of the Above?
Unfortunately for Brewster, the people took to the idea and he found himself turned from a rebel into a viable candidate - a perfect example of democracy in action. However, that was not in his plans, and, having sought to thumb his nose at the whole democratic process, he was forced to concede that it actually worked.
His solution, when faced with that ultimate irony, was to withdraw from the race, reasoning that while he was of the people and for the people, he had nothing more substantial than a few good intentions with which to lead the people.
How does that relate to Wahl's bid to become FIFA president? Well, though I'm sure Grant would like to see himself as the people's candidate - an everyman seeking to snatch the game back from the autocrats - I just wonder whether there can be enough substance behind his bid to see it through in the unlikely event of a victory.
Don't get me wrong, giving the public a voice at football's top table is a laudable ambition. But, as Monty Brewster discovered, you have to be careful what you wish for.
Grant is a respected journalist. As such, I assume he's reactive not proactive because it's our job to break the news not make the news. However, as FIFA president you are the game's ultimate catalyst. It's you that makes things happen.
And while, like all of us who love soccer, Grant will have a million theories on how things could be done better, ideas are a dime a dozen. It's the implementation that counts, with the all the determination, cunning, diplomacy, connections, business acumen, and ruthlessness that it entails.
Therefore, in the event that he does get his name on the ballot, one question above all needs to be considered - would a vote for Grant Wahl be a vote for a legitimate candidate who could take the game forward, or for None of the Above?