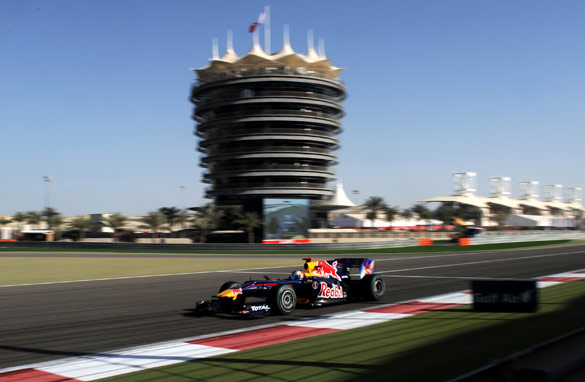 Bahrain's withdrawal has presented Formula One with a dilemma.
So, the Formula One season will now start in Melbourne, Australia, on March 27th. As Red Bull's Aussie driver Mark Webber put it: "Back to the good old days."
Australia has become used to kicking off the annual Formula One circus since 1996, but the emergence of a new track in Bahrain, whose backers have seemingly bottomless pockets, changed all that.
Having invested an estimated $200 million in building the Bahrain International Circuit at Sakhir, the island Kingdom staged its first Grand Prix in 2004, hosting the season-opener in 2006 and again last year.
The right to stage a race costs them around $40 million, it's roughly another $20 million to guarantee that it's the first of the year and that's on top of the $50 million the BIC is believed to have invested making improvements to the track since last March.
For Bahrain, Formula One is a shop-window to the world and the right to host such a glamorous sporting event is the cornerstone of its marketing strategy.
For Formula One, it's easy money. But, having accepted all of Bahrain's riches, F1 is perhaps learning that there is also a cost.
Racing there in March would not have been good for PR; not doing so could prove just as big a headache. The race could have become a magnet for anti-government demonstrators seeking a global audience and it would have been seen as endorsing a regime that – to many – now has innocent blood on its hands.
But the sport's supremo Bernie Ecclestone was spared having to make that decision by Bahrain's Crown Prince, who said the country's "entire attention is focused on building a new national dialogue for Bahrain."
Formula One's sponsors and broadcasters have signed up to 20 races in 2011, and there is surely so much more to be discussed in the coming days. Will the sport revisit Bahrain this year and if so, how and when? If not, there may be a long line of corporations demanding a 5% refund on their 2011 investment.
F1 has just enjoyed one of its most exciting seasons ever and is in the midst of an aggressive global expansion. The sport's traditional heartland in Europe is gradually making way for the riches offered by emerging markets. Asia and the Middle East have become players within the last decade, India takes a bow this season and soon it will be Russia's turn.
But the sport is now stretched to the limit. 2011 was to have been the busiest F1 season ever and team bosses were already saying that 20 races were enough. To accommodate these new venues – a track is being constructed in Texas to lure the Ferraris and the Red Bulls back to the USA – some will inevitably have to be retired.
Bahrain could well find itself out of favor with a sport that is becoming ever more sensitive to its own public image.
The 2011 F1 season is one of the most eagerly anticipated there ever has been, waiting another two weeks for it to start will only heighten the anticipation. But it remains to be seen what kind of future Bahrain will play in the sport.