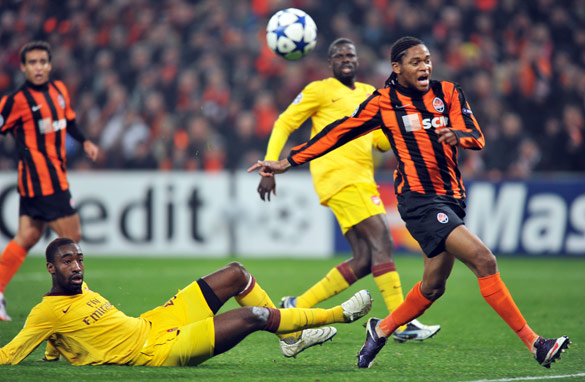 Shakhtar's Brazilian forward Luiz Adriano, right, is challenged by Arsenal's Switzerland defender Johan Djourou.
Last week's Champions League victories by Arsenal and Shakhtar Donetsk over Barcelona and Roma had football pundits around the world praising the exploits of the English and Ukrainian clubs.
However, as impressive as those wins were, it's debatable how much credit those two nations deserve for their clubs' successes.
Arsenal fielded only two English players at the Emirates Stadium, while Shakhtar started with just three Ukrainians. In fact, 10 of the 11 goals netted by Donetsk in Europe's top club competition belong to Brazilians.
This argument has been made before, and I would like to make it again. Clubs have lost all national identity and European ruling body UEFA needs to do something about a situation that is hurting the development of young players and affecting the performance of several national teams.
Let's start with the Premier League. On any given weekend, the percentage of English players representing English teams is low. How low? After crunching the numbers, I found that rarely does this number climb over 35%. This means that on any given weekend, only four out of 11 players lining up for Premier League teams were born in England.
The data is even more dramatic when looking at the top-four clubs. For example, in the last round of fixtures, Manchester United, Arsenal, Chelsea and Manchester City had a total of only 13 English players in the line-ups. Of the top-15 goalscorers in the league, only two are English.
These numbers don't lie, and they offer some insight into why the national team has struggled to perform at the top level.
Fans should be worried, just as England coach Fabio Capello has been ever since taking over the side in 2008. With the exception of Jack Wilshere and Adam Johnson, what other young talented players are there in England? Not too many.
While this scenario is quite worrying for English football, it's not much better in Italy, at least as far as the top teams are concerned.
Last season, Inter Milan won the Champions League in Madrid with 11 foreigners in their starting line-up. Serie A's top sides are littered with international players, and the national team has also paid the price recently.
The Azzurri were disappointing at Euro 2008 and the 2010 World Cup, and their outlook for the future isn't too bright looking at the pool of young talent available. In this season's Champions League, Italian teams have scored 30 goals. Guess how many were by Italian players? Eight. That's 27%. Doesn't make for great reading for Italian fans, does it?
But it's different story in Spain, which goes a long way into explaining why the national team has been so successful recently.
Spain's Champions League sides are comprised mostly of homegrown players, and as far as goals in that competition are concerned, half of them have been netted by Spanish players. Furthermore, if we eliminate Real Madrid from the equation, then we would find that 69% of the goals by Barcelona and Valencia belonged to Spanish players.
So what can be done to ensure that more countries follow Spain's example? Or Germany's example, for that matter? Well, that question would have to be put to UEFA.
If you ask me, it should introduce new rules in its competitions. Clubs should be forced to field six homegrown players in every game.
While UEFA cannot enforce these regulations in independent leagues across the continent because of European law, surely it could do so in competitions it governs. Therefore, in the Champions League and Europa League, teams would have to comply with this policy. That would surely give them more motivation to do the same in their respective leagues.
This way, maybe in the future, when Arsenal and Shakhtar record impressive wins, then their home nations would actually deserve some credit.