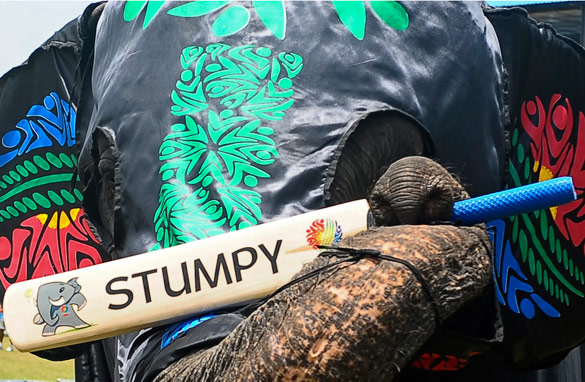 Bangladesh will host eight matches at the 2011 Cricket World Cup. (AFP/Getty Images)
It's hard to travel around Dhaka this week without running into Stumpy, mascot to the 2011 ICC Cricket World Cup. The city is dotted with posters of the upbeat, cartoonish blue elephant. In each one, he's holding a cricket bat-shaped clock, counting down to the second the World Cup begins.
As if anyone in cricket-mad Bangladesh could forget.
This is Bangladesh's first chance to host a major international sporting event, and everyone here is bursting with pride. We got a taste of it when we stopped to interview some fans playing a casual game at a Dhaka university. Even the security guard wandered over to share his thoughts on the upcoming action. "Everyone is excited that the World Cup is going to be held here," he said. "We are all feeling good. We are expecting the Bangladesh team will win." His sentiments were echoed by the crowd around him.
In all, eight matches will be played here, six in the capital Dhaka and two in the port city Chittagong. Neighbors Sri Lanka and India share the hosting duties, with Mumbai having the honor of holding the final match.
Bangladesh is spending roughly $45 million on the event, which a spokesperson said involved the most "massive security operation in the history of Bangladesh." Over 2,000 policemen will be present at Sher-e-Bangla Cricket Stadium and surrounding roofs and roads will be cleared. The country's elite police forces, including the SWAT and RAB, will be present.
Dhaka is busy with the finishing touches. Two weeks before the first match, a visit to Sher-e-Bangla Cricket Stadium revealed workers applying a final dose of paint to the banisters and groundskeepers mowing the lawns. The stadium is small by international standards, seating only 25,000, and the limited number of tickets has been a sore point here. The Bangladesh Cricket Board gave away 10,000 seats per match to government officials, VIPs and the ICC, leaving the country's millions of cricket fans to vie for the remaining 15,000. Hopefuls queued for as long as three days for tickets, and many left empty-handed.
But if the scarceness of tickets has dampened enthusiasm, it is hard to tell. Games will be displayed on giant screens throughout Dhaka, Chittagong and the country's 64 districts. With the opening match between Bangladesh and rival India, expect much of the country to be watching.