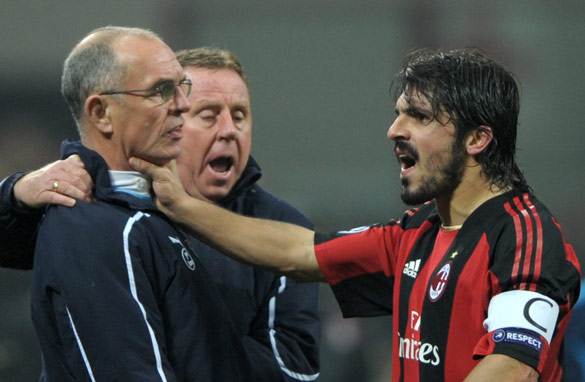 Gennaro Gattuso has apologised for his clash with Joe Jordan at the San Siro. (AFP/Getty Images)
Don't expect Gennaro Gattuso to change even if UEFA punishes him for his aggressive behavior in Tuesday's fiery Champions League encounter at the San Siro stadium in Italy.
The footage of AC Milan's captain grabbing Tottenham's assistant coach Joe Jordan by the throat and, later, head-butting him is sure to be a hit on video sharing websites, and a massive talking point in offices around the world.
Gattuso clearly lost his temper in the face of a surprise home defeat by a team playing in their first Champions League campaign. He was embarrassed enough to apologise afterwards, calling his own actions "inexcusable".
The Milan midfielder also said sorry on Twitter and the social networking site was buzzing with comments about the incident in one of the most watched sporting competitions on the planet.
Steve Nash – NBA star, Tottenham fan, and friend of Milan's Massimo Ambrosini – tweeted that Gattuso once told him that if he didn't play "like a madman" he would only be good enough for Serie C, instead of Italy's top division, Serie A.
It seems that Gattuso falls into that small but high-profile category of footballers who need a little anger to play at their best. The problem comes when that anger turns from full blown commitment into an uncontrollable red mist.
The same could be said for Wayne Rooney. His manager at Manchester United, Alex Ferguson, has often suggested that trying to rein in Rooney's renowned temper would blunt his attacking edge. And it's no surprise the England striker has looked off the boil while keeping a low profile following his difficult contract negotiations last year.
There is plenty of fire in Ferguson's belly too, and his Glasgow roots mean he will probably understand when Gattuso hinted that an exchange of "Scottish" words was the cause of his clash with Scotsman Joe Jordan. Gattuso used to play for Glasgow Rangers.
The player didn't adopt his fiery attitude playing in Britain. Italian football experts will tell you that Gattuso has always played that way, and it is the reason he was such an important member of Italy's World Cup winning team in 2006 and the Milan side that lifted the 2007 Champions League trophy. It's even rumored that Ferguson wanted to sign him that year.
Plenty of managers would welcome a midfielder with Gattuso's will to win but that burning desire erupted on Tuesday night against Tottenham – and this time most will feel he went too far.