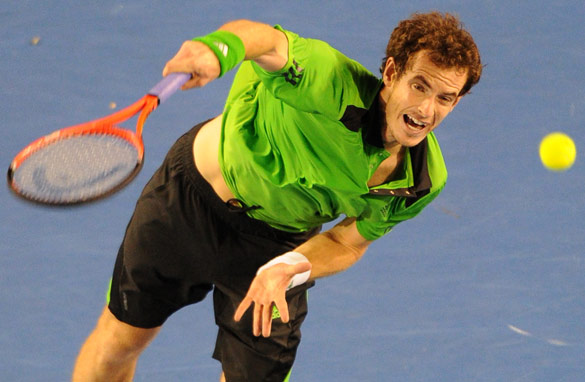 Andy Murray has lost in the final of three major tennis tournaments. (AFP/Getty Images)
Some may describe him as sulky, some as dour. Both are sometimes right – but there's a lot more to British tennis star Andy Murray than his on-court persona.
Not only is he said to be a popular member of the dressing room – and often seen to crack a smile or two - he's also, as we saw recently at Melbourne Park, a really good player.
You might want to stop me there and question his performance in the final. It's a valid point because Novak Djokovic was clearly the better player, and Murray simply didn't challenge him after the first set. But it's fair to say that the Serb was easily the best player of the entire tournament - look how he took out Roger Federer in the semis. It was impressive. Novak had what my mum calls a "purple patch" for two weeks, and he's actually been highly impressive for several months!
It was Murray's third major final, and so far he hasn't won a set. Is that cause for concern? Not really. He's beaten all the big guys, won Masters events and is still only 23 years old. He's also developed physically far later than, say, someone like Rafael Nadal.
So time is on his side, and while he won't win nearly as many majors as the Spanish world number one in the long-run, I am sure he will get on the board – and more than once.
Murray shares many of the same impressive qualities as Nadal. He is unbelievably fit, has an unquestioned desire to succeed, and many believe his service return is the best in the game. At 6ft 3in tall, his serve is getting more powerful ever year, and he has remarkable touch for such a big guy.
My only criticism of Murray is his tendency to sit back and defend rather than step up to the baseline and dictate play, something he has shown on numerous occasions that he can actually do very well. He tends to edge further and further back when he's nervous, and often gets away with it because he's so quick. He can run down shots all day long.
But in the really big matches - the 2008 U.S. Open final and the last two Australian Open finals - it hasn't worked. His opponents Federer and Djokovic did not allow him to step back and succeed. They are both able to find the angles and make the court bigger, which makes Murray's job impossible over five sets.
It's obvious Murray has a great tennis brain. He can change things up when needed, but when nerves get in the way, as any athlete can attest to, it's easy to revert back to your comfort zone.
That's why the Scot must now play more aggressively in every match, even when things aren't going so well. He will take some more losses because of this.
But what's more important? Losing early in a smaller tournament, or giving himself a real chance of a place in the history books? Britain is crying out for a grand slam champion. Mark my words, Murray will soon end 34 years of hurt!