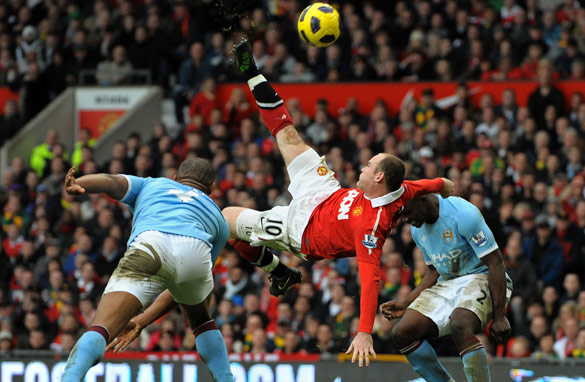 Wayne Rooney's super strike against Manchester City could be the turning-point in his career. (AFP/Getty Images)
Great footballers are defined by career-changing moments. And great goals can secure them a place in both the history books and the minds and hearts of supporters across the world.
These are moments that carry more importance than just an example of on-pitch technical excellence, they can win titles or turn around a team's fortunes - or a nation's hopes.
If you are a football fan, then I am sure you will have seen or know about the following goals:
The 17-year-old Pele's first goal against Sweden in the 1958 World Cup final, which Brazil went on to win 5-2.
Diego Maradona's stunning second strike against England, which followed his infamous "Hand of God" goal in the same match and helped Argentina win the quarterfinal on the way to victory at the 1986 World Cup.
Zinedine Zidane's volley against Bayer Leverkusen in the final of the 2002 Champions League, which gave Real Madrid a record ninth European crown and completed the French legend's collection of elite titles.
Leo Messi's mesmerizing solo goal against Getafe in the semifinals of the Spanish Cup in 2007, which marked him as Maradona's natural heir.
Undoubtedly some of the greatest ever scored in football history, these goals marked the careers of the above stars. I would even go as far as to say they were goals that immortalized these players.
You can now add to this elite list Wayne Rooney's incredible bicycle kick that won Saturday's Manchester derby. Amazing. Outrageous. Fantastic. Every superlative could be used to describe it. I have never been Wayne's biggest fan, but ladies and gentlemen, this goal was simply sublime. To have the presence of mind to try such an audacious shot and to pull it off to win a derby deserves all the praise in the world.
This is the kind of goal that we all dream about scoring when we were growing up. Unfortunately for us mortals, we would have to wake up and go to school in the morning. But Wayne, he lived the dream and as a result his career and his legacy have now gone to a whole new level.
To get an idea of how good Wayne's goal is, just think of the stakes. This wasn't in training, it wasn't in a friendly, it wasn't in a game that United were leading four or five-nil. It was in a crucial game for the English title race.
What makes it even more impressive is that Rooney was in a major slump. Ahead of Saturday's match at Old Trafford, the striker had scored only three goals from open play this season. Many people, including myself, wondered whether he would ever be back to his best. Back to the player who scored 34 goals last season before suffering an ankle injury against Bayern in the Champions League.
Those doubts have now disappeared. I can safely say England's top player is indeed back and he will surely lead Manchester United to the Premier League title this season.
I can tell you something else. Out of all the people celebrating Rooney's goal around the world, maybe some of the most excited were his sponsors. Rooney's moment of magic on Saturday was a marketing man's dream. Can you imagine what Nike are already planning? This goal can sell anything. Shoes, shirts, caps, socks, pet turtles … whatever they want.
This was more than just a goal, and it was worth more than three points. It was a life-changing moment and the 25-year-old Rooney is perhaps now an immortal in the world of football.