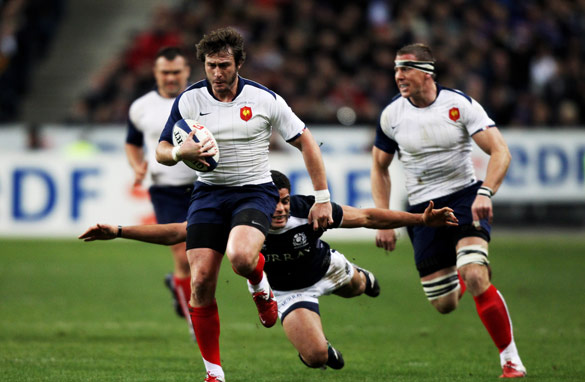 France's 34-21 win over Scotland in their Six Nations opener was in sharp contrast to their defeat to Australia last year.
If you like to be surprised, keep your eyes trained on France's rugby team this year. They should be the northern hemisphere's leading candidates to win the World Cup but their sheer unpredictability makes it impossible to declare that with any confidence.
France seems to have the unique knack of serving up inspiring victories and embarrassing defeats in equal measure; a seven-try thriller to start the defence of their Six Nations title coming just a couple of months after a 43-point thrashing by Australia.
It reminds me of the scene in the last Batman movie when the camera slowly moves around dashing District Attorney Harvey Dent to reveal the horrific injuries on one side of his face.
If it's making you cringe right now, just thinking about it, that's exactly what I mean. The French side has the ability to make your lip curl in disgust moments after coaxing a broad smile with a delightful turn of pace, deft handling or thumping forward play.
We often call it Gallic flair; more like Gallic scare. In the Batman comics, Dent is a hero turned villain and many would say the same is sometimes true of France. They are the Two-Face of world rugby.
France have dominated European rugby over the last decade, winning four of the last seven Six Nations Championships, including the Grand Slam last year. However, the team has fallen at the semifinal stage in the last two World Cups, losing to England each time.
Perhaps 2011 will be different. Club rugby in France seems stronger than ever. The teams are wealthy enough to recruit some of the best players in the world and their results in the Heineken Cup reflect that.
European club success doesn't automatically mean the French side will get better but anyone who questions their professionalism is living in the past. Gone are the days when a France team would lose an important international purely because of indiscipline on the field.
Going back to the World Cup, it's important to balance France's two semifinal defeats with the fact they have also reached the final twice – and only in 1991 has the team failed to reach at least the last four.
Conceding three tries against Scotland last weekend shows France still have work to do but some of their attacking moves were breathtaking, especially François Trinh-Duc's between-the-legs pass to set up Imanol Harinordoquy's try.
Now, their next match against Ireland will reveal their consistency. The Irish struggled against serial wooden spoon side Italy in the opening round of the Six Nations; so an easy victory for France then? Depends which face they show.