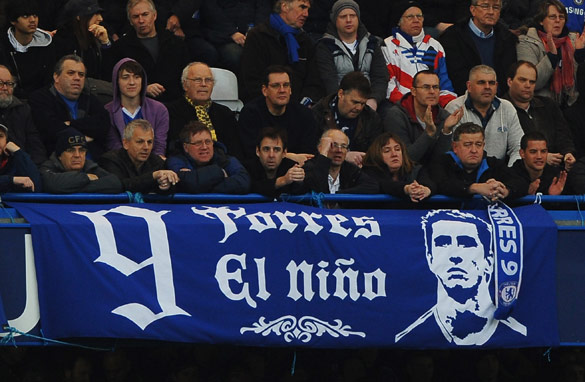 Chelsea fans were eager to see their new number nine in action, but it was the fans of his former club who were left smiling.
Fernando Torres has left Liverpool for pastures new - for a team which he claims can help him to the prize he now most covets, a Champions League winner's medal.
Chelsea are in the last 16 of this year's competition but Sunday's defeat to his former team Liverpool has dented their hopes of gaining a top four qualification spot for next season's campaign.
What if the surging Reds finish ahead of Chelsea in the league and make Europe's top club competition instead? How silly will Fernando feel?
In his place, King Kenny Dalglish has brought in two new strikers. Luis Suarez and Andy Carroll are exciting prospects, but neither is 'El Nino.' Neither has that turn of pace –- the magic weapon of Torres at his best.
Granted, both hopefully will have a better work rate, more of a team ethic, and a less sour look when things aren't going right.
Both will also surely know what playing for Liverpool - England's most successful club - under a legendary manager, means. The fans know it. Liverpool may be down, but are certainly not out. And that's what Torres failed to understand.
Why couldn't he have waited until at least the end of the season? Under Dalglish the players look more sprightly, the football has been more creative, the tactics have been more astute, the results are improving and Torres was looking back to his best.
The future at Anfield is looking so much brighter than in the past few months -– but our World Cup and European Championship winner decided to jump ship and swim to a team which has not won the Champions League, unlike Liverpool in 2005, despite massive investment.
South African star Steven Pienaar recently turned down the chance to play at Chelsea, picking Spurs instead because he said they play more exciting football.
Certainly the future looks healthy at White Hart Lane. Can the same be said for Stamford Bridge, where managers come and go depending on the owner's mood and many of the top players are ageing?
Though we don't know what really went on behind the scenes at Liverpool (rumors were rife that though the players respected Torres, they didn't much like him), it's arguably all come down to impatience.
Torres wants to win things now and Chelsea are in a better position than Liverpool, at this moment in time, to bring home silverware, but he is cup-tied and cannot play as they continue their defense of the FA Cup.
It brings me back to 2004 when Michael Owen left Liverpool for Real Madrid saying he wanted to win trophies. The very next season the Reds won the Champions League, while he was sold to Newcastle with nothing to show for his solitary term in Spain.
It will be interesting to see if Torres' dreams are fulfilled at Chelsea or whether his stint in London will turn into a nightmare.