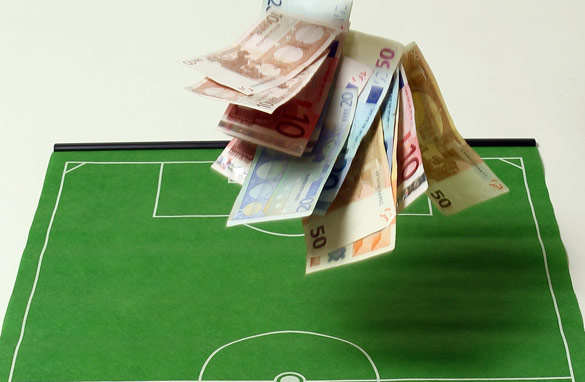 Chelsea spent $114 million on the last day of the mid-season transfer window.
Wow, what a day! If you went to bed early, you missed one of the most exciting conclusions ever to a European transfer window. I was honestly shocked at how many players moved on Monday and at how much money was spent, especially in the English Premier League.
Leading up to the final day of the mid-season transfer window, one of the stories had been how Chelsea had not spent a single dime on players. Even though their aging squad looked burned out and incapable of winning any silverware this season, Blues' owner Roman Abramovich kept the key to his well-stocked safe well hidden.
Well someone or something must have told him to spend, spend, spend! By the end of play on Monday he had dished out an incredible $114 million on Spain Fernando Torres and David Luiz of Brazil.
Let's start by analyzing the purchase of Torres. Even though he has endured a very tough season, his numbers at Liverpool are still phenomenal. Overall, he scored 81 in 142 games for the Reds. Explaining why Chelsea signed him is easy, especially if you consider the fact he scored 7 times in 7 games against the Blues.
It is also easy to explain why "El Nino" wanted to leave Anfield. After enduring several years at Atletico Madrid playing second fiddle to Real and Barcelona, the last thing he wanted to do was to spend a decade at Liverpool without winning a single trophy. And let's face it, the Reds are in transition, and it will be a while before they can compete for major honors.
What about the money? Well $80 million is a LOT of money, the most ever spent by an English club in fact. Would I have paid that much? Never. At this moment in time I believe Torres should have been valued at about 60% of that amount.
Then again, if former Newcastle striker Andy Carroll is worth $44 million, then Torres was a bargain! I can't believe how inflated the transfer market is when it comes to English players. Is the 22 year-old goal-getter good? Yes. Does he have potential? Yes. But is he worth that kind of money? No way.
Carroll has had a good first season in the Premier League with 10 goals in 19 games and he scored for fun in the second division last year, but he could never be worth more than $25 million. Liverpool obviously felt that they needed to buy someone who could become a new English idol for the fans and decided to splash the cash on a player who could fit that mold. Then again, he could also become a huge bust.
So what were the best and worse moves of the mid-season transfer market? Here is my verdict:
Best deals
Emmanuel Adebayor – I have never been a big fan of the big front man, but to get a proven goal-scorer for virtually nothing midway through a season has to be a major coup. If his main issue has always been work rate and team spirit, then Mourinho will put him in his place. I expect him to be a big hit at the Bernabeu.
Antonio Cassano – Is he unstable? Yes, and his biography proved it. However, he is still one of the most talented players of his generation and could be the X-factor Milan needs as they look for their first Scudetto since 2004. If he behaves, he will be a hero at the San Siro.
David Luiz – How can $34 million be a good deal? Well, David Luiz is the most talented young defender on the planet. Trust me. I have watched him for over three seasons at Benfica and he has improved every year. Already a regular with Brazil and will quickly become an icon at Stamford Bridge.
Worst deals
Steven Pienaar – $4.8 million for a good international midfielder isn't a bad deal, don't get me wrong. However, I think Spurs made a big mistake in messing with their team chemistry. If it ain't broke, don't fix it. That's what they say, and Harry Redknapp will not win many games, especially against big teams, with Pienaar, Modric and Van der Vaart on the pitch. If anything, Tottenham needed a new defender. Not another creative player. The South African was a waste of money as far as I'm concerned.
Luiz Gustavo – A good player, no doubt, but never worth $23 million. Hasn't played a single game for Brazil even though they don't have that many quality defensive midfielders. I think Bayern gambled a little too much on a player who was good at Hoffenheim but will struggle to make the step up at the Allianz Arena.
Julio Baptista – The much-traveled Brazilian went back to Spain and signed for Malaga. The price tag, $3.4 million, doesn't bother me. However, what does bother me is that Baptista is not the player a team battling against relegation needs. His work rate is poor and so is his commitment. Will score the odd goal but still a liability, both on and off the pitch.