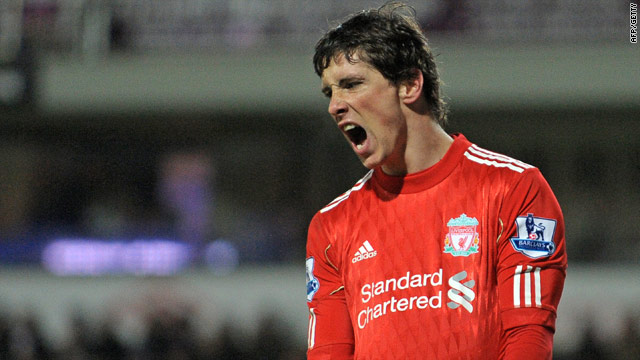 Liverpool's Fernando Torres is being linked with a big-money move to Chelsea.
With the wheeling and dealing of football's transfer deadline day in full swing, Europe's top clubs have the last chance to strengthen their squads for the challenges ahead.
But with the stakes high, an ill-timed gamble in an inflated transfer market can lead to a downturn in a team's fortunes and it's significant that the real giants of club football - the likes of Real Madrid, Barcelona and Manchester United - rarely make permanent signings in mid-season.
Jose Mourinho's Real did pick up Emmanuel Adebayor from Manchester City on loan, and with the Togo international making his debut promptly lost at Osasuna Sunday night to all but end their La Liga title hopes.
With the economic downturn and new UEFA rulings on "financial fair play," spending this window looked set to fall short of the near $200 million spent by English Premier League clubs alone 2008.
But it's significant that most of the window's biggest signings to date have been in the EPL, with Edin Dzeko moving to cash-rich Manchester City from Bundesliga side Wolfsburg for 31 million euros ($42 million) and Darren Bent switching from Sunderland for league rivals Aston Villa for 28 million euros ($38 million).
Much of the deadline-day interest has focused on Chelsea's pursuit of Fernando Torres, with honorable mentions for the cluster of clubs who want to get their hands on Newcastle's Andy Carroll and Sergio Aguero of Atletico Madrid.
With Torres reportedly set leave Liverpool, the Reds have sealed the signing of Uruguay sharpshooter Luis Suarez from Ajax for a relatively cut-price 26.5m euros ($36 million).
That may prove to be the best signing of all, as he's scored at nearly a goal a game for the Dutch giants, but who do you think will be the best signing of the January transfer window ?
With deals set to be completed right up to the 2300 GMT Monday deadline, leave your comments below.