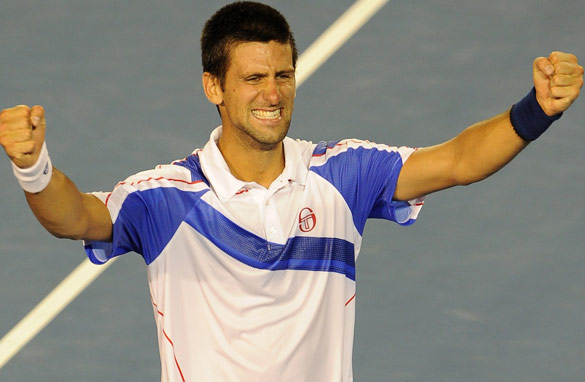 Open Court's Pat Cash believed Novak Djokovic was a contender to win the Australian Open from the start of the tournament.
It was a difficult time heading into the tournament. Everyone was in shock with the floods up in Queensland, we couldn't believe what we were seeing. It's happened before, many years ago, but it's been all over the news non-stop, so the Australian Open has certainly been a distraction. With the floods and losing the Ashes cricket, we were very happy to get the tennis under way!
Before play started, I had the belief that Novak Djokovic and Andy Murray were closing the gap on the top two, there's no doubt about that. They were improving and they were working on their game.
Roger Federer, who was defending his title, was also working on his game, but Rafael Nadal traditionally doesn't do that well at the beginning of the year, and he'd had a big year.
So for me it wasn't surprising at all to see Djokovic and Murray going through to Sunday's final, and Nadal and Federer not. It's very close now at the top, and unfortunately Rafa got injured, but these things happen and he couldn't play his best.
It's going to be tough to say who'll win, but Djokovic and Murray are two in-form players, there's no doubt. I'm not going to be very popular back in Britain, but Djokovic has got a bit more to his game at the moment, a bit more power. It's very much going to be down to who plays well at the right times, who grabs those opportunities.
It could be a long, tough match. I wouldn't be at all surprised if Murray came away with the title, but I'm going to have to say Djokovic should win. After beating Federer and having a couple of days' rest, he's looking in pretty good shape.
As far as the women's final goes, Li Na has definitely got a chance. But I don't think she's as powerful, and she doesn't have the all-round game of Kim Clijsters.  She didn't do her best last year losing to Serena Williams in the semifinals, but she has that experience to draw on.
It really is down to playing best on the day. It's going to be warm, and Clijsters can tend to hit a lot of unforced errors, so I give Li Na a bit of a chance. I'm not sure if she will win, but she's got a chance.
On a sadder note, it's disappointing to see Justin Henin retire for the second time. Injuries are unfortunate, but that's what happens in sport. It's a pity that she couldn't give it 100% her second time around, but she's played a lot of tennis in her career and sometimes the body breaks down.
She's one of the superstars – she's little "Mighty Mouse," I like to call her. She's brilliant to watch, I'll miss her. I'll be disappointed not to see her on the circuit.