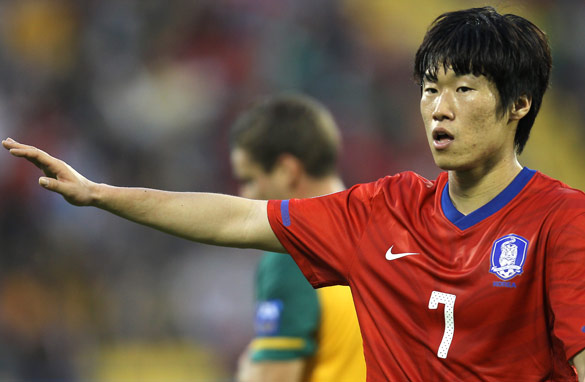 Which players will help lead South Korea's bid for a world title after the retirement of Park Ji-Sung?
As I watched Japan beat Qatar in an exciting quarterfinal at the Asian Cup, I wondered if a team from this confederation could ever win the World Cup. My first thought was "definitely not," but considering the 2022 tournament is taking place in the region, will AFC nations have more motivation to improve their infrastructure and coaching in order to shine in 11 years' time?
As you probably know, only one Asian nation has ever made the semifinals of soccer's top international event, South Korea in 2002. Now, as well as the Red Devils played, they had the advantage of home support and benefited from some fortuitous refereeing decisions in the matches against Spain and Italy.
Even so, their achievement made many pundits believe a bridgehead had been established for the region's football teams to mount regular assaults on the latter stages of FIFA's flagship event. A hope that has sadly remained unfulfilled. In 2006, only Australia made it past the group phase before losing to Italy, while last year Japan and South Korea were dispatched in the round of 16 in South Africa.
In order to analyze the possibility of an Asian World Cup champion, we have to look at the pros and cons of teams from the region. This is incredibly difficult to do considering the cultural and social differences between many of the nations, but it would be fair to say they all share one problem: lack of experience at the top level.
If I asked you to name the top-five Asian players of all time, how quickly could you answer the question? Not easy, is it? The fact remains that few have made an impact on world football's best domestic divisions, where quality opposition and high standards of technique are a week-in, week-out reality. A presence in the top leagues of Europe is required. I would pick out Park Ji Sung, Hidetoshi Nakata, Ali Daei, Mark Viduka and Cha Bum-Kun for their achievements for club and country, but none of them have set the world alight.
Another challenge, historically, has been the style of football. Detractors have labeled Asian teams as soft; as sides that shy away from physical clashes and mid-air tussles. Whether this holds water or not, the record shows that Asian teams have rarely done well against nations with strong center-backs and strikers.
In my opinion, the priority for the top Asian teams right now should be to invest in coaching. The federations in Australia, Japan, South Korea, Iran and Saudi Arabia should try to sign top coaches from Europe and South America to work with their youth teams.
We have seen what Guus Hiddink managed to do in 2002, and look at what Alberto Zaccheroni is accomplishing with Japan right now at the senior level. If coaches with international experience could influence young, talented Asian players, a football revolution could take place in the region leading up to the 2022 World Cup.
Which leads me to a point about the hosts of that tournament, Qatar. I predict right now that they will make at least the quarterfinals. Pretty bold call, huh? Especially considering they have never qualified for a World Cup. Well I justify this pick by saying that over the next decade this oil-rich nation will pump pots of money into the sport. They will get the best coaches, the best physios and the best fields to make sure that their national team is successful at the event. And as the ancient saying goes, you reap what you sow ...