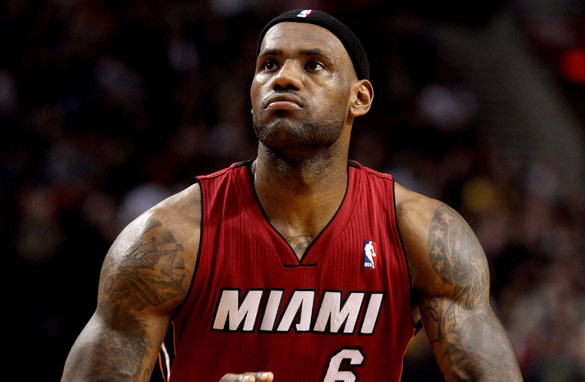 Miami Heat star LeBron James says the NBA should be contracted.
LeBron James was crowned "King James" before he ever stepped foot on an NBA court. He then proceeded to lead the Cleveland Cavaliers to pastures much greener than any they'd experienced in their 40-year history.
That included two of the franchise's three division championships and their only NBA Finals appearance. But in seven seasons with the Cavs, "King James" failed to bring home a championship.
What followed has become the biggest soap opera in recent NBA memory. His much publicized divorce from the Cavs last summer changed his image from a do-no-wrong highlight reel to a vilified figure that chose to share the pressure of winning with the Heat's Dwayne Wade.
LeBron and the Heat have taken off after a shaky start, and currently own the East's best record. But that hasn't stopped LeBron from speaking out on a number of issues and making himself an even bigger target for his detractors.
A couple of days before the Heat's clash with defending champion LA Lakers on Christmas day, LeBron suggested the NBA would benefit from contraction. LeBron believes the league has too many teams and as a result, the elite talent is too spread out.
LeBron pointed back to the '80s when star-studded rosters such as the one he currently plays on with the Heat weren't uncommon. He said in the '80s teams had "three or four All-Stars, three or four superstars, three or four Hall of Famers on the same team." Is LeBron right? Probably. Should he be speaking out in favor of contraction? Most definitely not.
After all, contraction would mean cities would lose their teams and players would lose their jobs. Perhaps "King James" didn't think about those little nuggets when letting his mouth deliver his latest "Royal Statement." How can we forget that the NBA world revolves around LeBron!
LeBron continued: "Not saying let's take New Jersey and let's take Minnesota out of the league. But hey, you guys are not stupid, I'm not stupid, it would be great for the league." We may be stupid LeBron, but you most certainly are not.
Was the contraction suggestion a way for LeBron to defend his decision to team up with Wade and Chris Bosh in Miami? If so, it's not much of a defense. I can't really see fans across the league who criticized his move to the Heat all of a sudden change their tunes and encourage the very same unification of power that would transpire with contraction.
If anything, LeBron reinforced his under-siege image in the eyes of his critics. But maybe that's what he wants? In seven years as the good guy in Cleveland he never reached basketball's summit. Maybe he likes his new role as the bad guy.
Recently his former team Cleveland suffered one of its worst losses in franchise history. The Cavs suffered an embarrassing 112-57 defeat to the Lakers – the fewest points Cleveland has ever scored in a game.
LeBron didn't miss his chance to strike a low blow towards his former employers. He Tweeted after the game: "Crazy. Karma is a b****. Gets you every time." Statements like that will not make him any friends. They won't bring his growing list of critics to his corner. They will only add fuel to the anti-LeBron fire.
But maybe that's exactly what LeBron wants. Maybe he realized good guys finish last. He's ready to be the bad guy. He's ready to win as the bad guy. But when LeBron talks, he should only do it on "The King's" hardwood court. And if he hoists the Larry O'Brien Championship Trophy, then none of this will matter. It must be Karma.