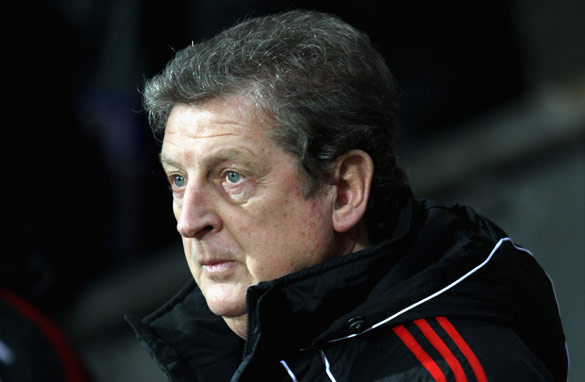 Roy Hodgson struggled to win over Liverpool's fans after replacing Rafael Benitez in July. (Getty Images)
So he's gone. After just six months in charge Roy Hodgson has left Liverpool by "mutual consent."
Mutual consent? I think not! What they really meant to say was: "Fired – you will walk alone – goodbye."
On the day arguably England's most successful club (a joint-record 18 league titles, five European crowns) made the announcement, Liverpool were 12th in the Premier League table and fourth points above the relegation zone. This is simply not good enough for a club of this stature at any time, least not past the halfway mark of the season.
And there was no end in sight for suffering Liverpool fans such as myself.
The once-mighty Reds won only seven of their 20 league games under Hodgson and lost three of the last four. It wasn't as though they were playing attractive, good football either and were just unlucky. There was no togetherness, no fight, and very little service to those up front. No wonder star striker Fernando Torres looked sullen at the best of times.
The defense was the worst part. With Jamie Carragher out injured, you could see the players looking at each other with disbelief when another tame goal went in. Once it was difficult, if not impossible, to penetrate the Liverpool back-four - now you could do it with one arm behind your back.
Pepe Reina was seldom to blame, and when you have a quality goalkeeper like that conceding so many, you know things are not right.
Hodgson blamed some of the bad results on the players not being his. But let's examine this claim briefly.
Three of his four signings have just not worked out. Raul Meireles has been okay, and Joe Cole might come good with some more games behind him, but Christian Poulsen and Paul Konchesky are hardly Liverpool players, are they? Yet Konchesky starts more often than not. In my opinion, he should have stayed at Fulham with Hodgson!
Roy's failure to get the players on his side was one thing, but he lost the fans almost from the start. Remember when he failed to back Torres immediately after Manchester United boss Alex Ferguson accused the Spanish striker of cheating? I watched that game and United's Nani could have won an Oscar for his "Oh, I fell over" performance. But Roy decided to stay quiet until later and not displease his friend Alex with a comeback. Bad mistake!
Another lowlight was when Liverpool lost 2-0 to Everton and Hodgson claimed it was "our best performance of the season." No Roy, there's nothing ever good about a loss to our Merseyside rivals.
To be fair, it wasn't all his fault. The team is short on balance and clearly relies too much on Steven Gerrard and Torres, and when they aren't clicking there is no-one good enough to take over. Former coach Rafa Benitez must take some blame for that. But he is gone and probably doesn't care.
And let's not forget about former owners George Gillett and Tom Hicks, for whom it seems the club was simply a way to make money. They left it in a mess.
There's hope for fans in the new owners though, and Dalglish is a clever stop-gap until the end of the season. If anyone can inspire the players it's "King Kenny" - who has stayed very much in the mix at Liverpool, a club he has not only managed successfully but played and won many things for.
It's too late to hope for a Premier League title this season but consider this: John Henry's New England Sports Ventures took over the Boston Red Sox in 2002, two years later they won Major League Baseball's World Series for the first time in 86 years. Three years later they won it again.