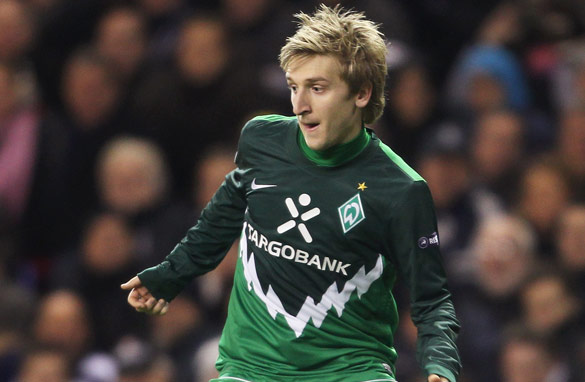 Will promising German Marko Marin follow the likes of Mesut Ozil and move onto a bigger stage? (Bongarts/Getty Images)
What do we have in common with football managers at this time of year? Well, we are all hitting the January sales looking for bargains.
When the New Year comes around, all football clubs are faced with one crucial question: To buy or not to buy? Getting in two or three different players can give teams the extra ingredients needed to push for a title or to escape relegation, but new signings can also disrupt team chemistry and cause unwanted headaches for managers at the business end of the season.
In my opinion, top clubs around Europe should only buy players in this winter transfer market who are either an experienced international able to add stability and leadership, or a young talented star with pace and energy, ideally coming off the bench.
As club bosses look around for what they hope could be valuable additions to their squads, they could do a lot worse than utilize a tool I have been using for over a decade to spot talent: the computer game "Football Manager." I have been playing it since I was 17 years old, when it was called "Championship Manager."
It has helped me find out about many talented players before they developed into stars in real life. Javier Saviola, Wayne Rooney, Leo Messi, Hatem Ben Arfa and Danny Murphy, for example, all matured into international-class players in the game before anyone else around had ever heard about them.
The game has often made me look like a genius around my colleagues and friends, and it still keeps me updated on all the latest teenagers who could turn out to be the next big name. The latest version features an incredible database of over 400,000 players and staff. It's compiled by researchers and scouts in every major footballing nation in the world, and is definitely a tool that managers could use as a starting point to look for new players.
The director of the studio that produces the game, Miles Jacobson, told me recently that some clubs, such as English side Everton, already use the game to help establish their scouting network. Maybe in the future more teams and coaches will follow suit.
So, using my personal knowledge and the help of Football Manager's database, I have formulated a list of 10 players who would make an immediate impact if signed by any top team in January.
Marko Marin (Werder Bremen) – He has been called the German Messi and it's not only because his frame reminds football fans of the Barcelona phenomenon. The 21-year-old combines all the skills that playmakers need to succeed: skill, creativity and flair. It's only a matter of time before he moves to a bigger club.
Hulk (FC Porto) – A powerful Brazilian forward who earned his nickname when playing in Japan because of his physical similarities with the green superhero. The 24-year-old is the finished article. He has plenty of pace and power and combines it with a magical left foot to give defenders and goalkeepers in the Portuguese League nightmares.
Sergio Araujo (Boca Juniors) – A speedy and skilful Argentine winger who at the age of 18 is already a star at "La Bombonera." He needs to bulk up in order to play in Europe, but has the raw talent needed to succeed.
Adel Taarabt (Queen's Park Rangers) – The 21-year-old has been setting the English second division alight with his breathtaking dribbles, tricks and flicks after being discarded by Tottenham. The Morocco international is destined for a bigger stage. He just needs a manager who believes in his skill and gives him the necessary freedom to shine.
Ganso (Santos) – Along with Neymar, the 21-year-old is one of the young stars of Brazil's new football generation. A complete attacking midfielder in the mould of Kaka who is in need of a bigger challenge.
Wagner Love (CSKA Moscow) – A proven goalscorer who has spent the last seven seasons in Russia (with the exception of short loan spells at his first Brazilian club Palmeiras and then Flamengo), the 26-year-old could make a difference right away if given a chance with a good club in a top league.
David Luiz (Benfica) – One of the most talented defenders in Europe at the moment, this 23-year-old Brazil international has been become a cult hero with the Portuguese champions, but is ready to shine on a bigger stage. A great tackler, Luiz also has silky skills and is a master of building play from the back.
Mahamadou Diarra (Real Madrid) – Frozen out at the Bernabeu, the Mali international still has a lot to give and could be an important signing for a team in need of a midfield warrior who is not afraid to dive into tackles. The 29-year-old would fit in perfectly at English club Arsenal.
Nassim Ben Khalifa (Wolfsburg) – He was instrumental in Switzerland's victory in the 2009 FIFA Under-17 World Cup, scoring four goals. It looks like the 18-year-old will develop into a fantastic player once he makes his mark in Germany, having left Grasshopper Zurich last February.
Eden Hazard (Lille) – Hailed as one of the top young attacking midfielders in Europe, Hazard has been compared with Zidane after making his debut in the French league at the age of 16. Now 19, he has already been capped 17 times by Belgium and could become a star in a major league very soon.