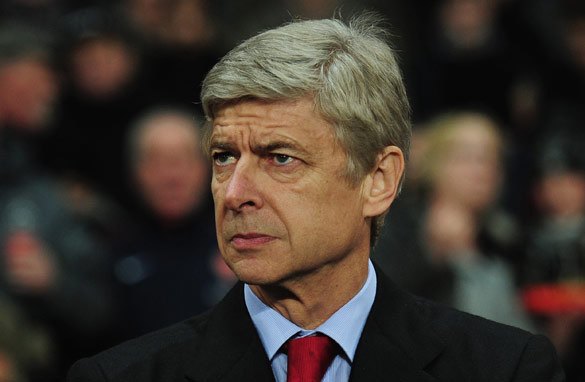 Arsene Wenger has won three English league titles with Arsenal, but none since 2004. (Getty Images)
Let me clear up one thing before I get started: I am not an Arsenal supporter. Never have been, never will be … but, and please keep this on the down-low, I am a bit of a fan!
The English club's manager Arsene Wenger can be a bit of a moaner from time to time, but he is also a genius, and like very few in football these days, puts his club before himself.
Plenty of people have questioned why the Frenchman hasn't bought bigger stars and broken the bank to bring in a reliable goalkeeper. Plenty have said that Arsenal have plenty of style but no substance. Plenty have said a five-year trophyless run should have meant the end of Wenger's long and storied Arsenal career. They are all wrong.
What I would give to see my team Liverpool play beautiful football like the Gunners. What I would give for my team to have long-term stability in the boardroom. What I would give for my team to consistently challenge for trophies and do it with the minimum of fuss.
Wenger has bought and sold brilliantly. He can spot young talent a mile away, and because of him Arsenal can bring players in on the cheap. He sees their potential, their ability to fit into his system, and to him that's much better than spending millions on a so-called big name - who might not conform, and worse, might take Arsenal to the cleaners.
The players now have the power (see Wayne Rooney) and Wenger does not want Arsenal to be held to ransom. Cesc Fabregas came close to testing him, but despite declaring his love for Barcelona the Spaniard realised it would be worth his while to sit tight and soak up more of his manager's wisdom.
The decision will serve him well. He would have been warming the bench quite a bit at the Camp Nou (see Javier Mascherano.) At the Emirates he's the captain and the heart-beat of the team. Wenger is the brains and the heart-beat of the club.
He's a manager who is fiscally responsible. If the money is not there, he won't try to spend it. If the money is there, he might not spend it either. This technique may frustrate some fans and not pay off in the short term, but the 61-year-old is a long-term thinker and fortunately Arsenal have the wisdom to believe in his philosophy.
The future is incredibly bright at the Emirates – it's only a matter of time until the trophy cabinet gets fuller. I wouldn't be at all surprised if his young guns win the Premier League this season.
When Wenger eventually steps down, Arsenal fans will remember him fondly. They'll remember his teams' passing and movement - the beautiful game as it should be played.
I can only hope I will someday see my Liverpool play half as well.