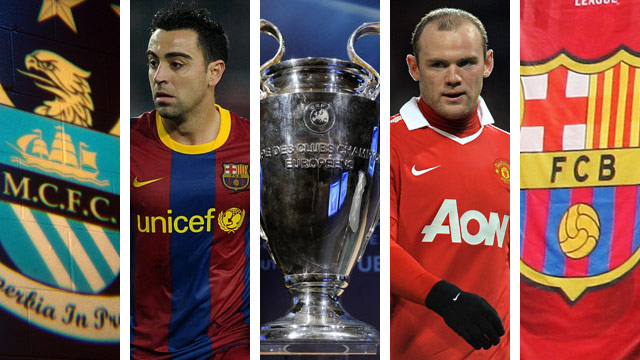 Who produced the highlights of the past 12 months, and who let the side down? (Getty Images)
It's time for a look back at a year that featured many firsts in the football world. The first African World Cup, the first Italian team to win a treble and the first African club to reach the final of the Club World Cup, just to name a few.
I was fortunate enough to report on many of 2010's biggest football stories, and now here's my verdict on who was hot and who was not in the past 12 months.
Best team – Barcelona
It would have been easy to pick Spain considering they won the World Cup for the first time in South Africa in July and played a fantastic brand of football, but considering the backbone of the national team comes from Barcelona, and the Catalans have the best player in the world in Leo Messi, I have to pick Barca.
They play football in its pure form. It is truly poetry in motion. The passing, the movement and the unselfishness with which they play is amazing.
As much praise as their attack gets, one can't forget that Barca's defense has improved considerably in recent times. In a seven-match stretch at the end of this year, they scored 28 goals and conceded none. An unbelievable record which included that historic 5-0 win over eternal rivals Real Madrid.
Best player – Xavi
While Messi is the best player in the world, Xavi was the best player of 2010 and I hope he wins the FIFA Ballon d'Or award next month. One of my best friends calls him "Neo" - after the character from the film "The Matrix" - for his ability to see the game in slow motion when everyone else struggles to keep up with the pace of Barcelona's passing.
Xavi has the ability to consistently be in the right place at the right time in midfield, and he is the man who made Spain and Barcelona tick this past year. Just how good is he? The diminutive maestro makes everyone around him better, including Messi, who has scored many more goals when playing with Xavi for Barca than when playing for Argentina.
Best manager – Jose Mourinho
Love him or loathe him, one must respect him and what he has done in the world of football. In May, Mourinho became only the third coach to win the European Champions League with two different clubs and also helped Internazionale become the first Italian team to win a treble.
He is a master motivator who understands the needs of his players and always gets the best out of them. More than a coach, this man is a leader. He would also excel as a general in an army or as the CEO of a major company. Mourinho revolutionized the way managers prepare for games by compiling files on opposing teams and players to give to his own athletes.
Although most people are predicting that Barcelona will win the Champions League this season, it would be foolish to bet against the "Special One."
Best moment – Diego Milito seals Inter's Champions League final win
One moment I will never forget from this past year was Milito's second goal against Bayern Munich in Madrid. This is a man who for most of his career played for mediocre clubs such as Zaragoza and Genoa - and in the biggest game of his life scored one of the best goals I have ever watched live in a stadium.
It was magical the way the Argentine abused Daniel van Buyten with a body fake and a quick change of direction, and then placed the ball past the outstretched goalkeeper. One of the most underrated strikers in the world proved his worth last season with Inter, and that goal was a moment that neither he or I will ever forget.
Most overrated team – Manchester City
What have Manchester City won in the last two decades? Absolutely nothing. What have they done over the past year? Very little. Yet they keep on being considered one of the top teams in Europe. The English press can't get enough of them and I am truly baffled at the attention they keep getting.
Since Roberto Mancini took over as manager, they have won only three of 10 games against England's top-five teams (Manchester United, Arsenal, Chelsea, Liverpool and Tottenham) and haven't lifted a single piece of silverware, so please, let's wait until they actually win something before comparing them to other top Premier League sides.
It's not as if they play an engaging brand of football, either. This is primarily a counter-attacking team that struggle to dominate possession and have trouble performing in big games.
Most overrated player – Wayne Rooney
Maybe I made this pick because I live in England and constantly have to hear how great he is from everyone around me. I am not going to sit here and say he isn't a very good player, but he isn't a superstar and must improve his scoring rate if he wants to be considered a top striker.
Since joining Manchester United in 2004, Rooney has scored a goal every 2.6 games. He had an abysmal World Cup, and this season he has yet to score a goal from open play for his club. Yet he continues to be branded by most people in the UK as God's gift to football.
Even Sir Alex Ferguson is guilty of overrating Rooney, giving him more minutes than Dimitar Berbatov when the Bulgarian's goalscoring rate is much better this season. Wayne needs to get sharper and needs to start scoring more consistently in order to be a permanent member of football's royalty.