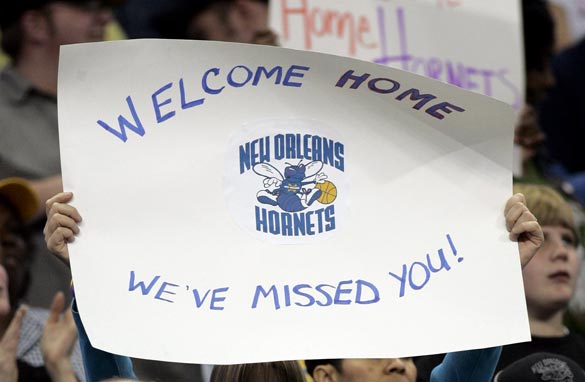 Will New Orleans be able to keep the Hornets basketball franchise in the city? (Getty Images)
After being utterly devastated by Hurricane Katrina back in 2005, New Orleans has rallied around its sports teams for inspiration. In fact, the NFL Saints' Super Bowl triumph earlier this year is used as a symbol of how the city has come back from the disaster stronger than ever.
New Orleans fans have also loyally supported its only other professional sports franchise - the NBA's Hornets. But while the Saints may march on to another Super Bowl run this year, the future of the basketball operation is murky after becoming the first team in history to be owned by the NBA.
Hornets fans face the painful possibility of losing their team to another city – an all-too normal occurrence in U.S. sports. After all, the Hornets themselves moved to New Orleans from Charlotte in 2002. So how did the sale to the NBA come about?