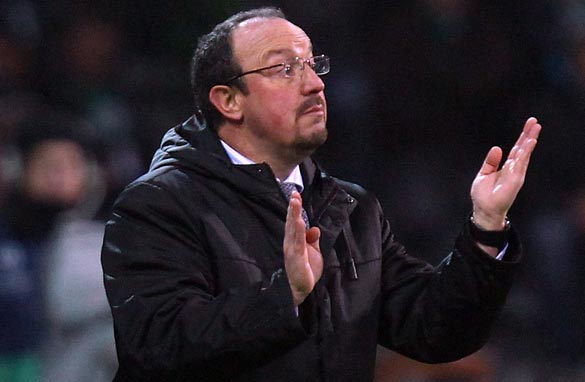 Rafael Benitez faces losing his job at Inter Milan after only six months in charge. (Bongarts/Getty Images)
New country, same old tricks. Not for the first time, Inter Milan coach Rafa Benitez seems to be using the media to influence his club owner's plans – and it's putting the Spaniard's future at the Italian team under threat.
At English side Liverpool, Benitez had the full support of the fans when he suggested that American billionaires Tom Hicks and George Gillett needed to buy more players. They were unpopular owners and have now been replaced.
But it's a different story in Italy, where Massimo Moratti has emulated his father's presidency by overseeing Inter's capture of Italian, European and world titles.
Perhaps Benitez thought the perfect time to call for more investment in the squad is when he's on top of the world, forgetting it also means there's a long way to fall.
What Rafa appears to have misjudged is the cultural difference between English and Italian football. His comments after Inter's FIFA Club World Cup triumph don't appear to be any harsher than his outspoken words while still at Liverpool.
However, in Milan they seem to have caused far more of a stir.
We interviewed Italian football writer and Inter expert Tancredi Palmeri on CNN's World Sport show on Monday. He told me that no manager has ever been so critical of the club's president, and it makes Benitez's position at Inter untenable.
He also said the Spaniard has admitted losing control of the dressing room by revealing that he scolded 15 of the squad for going to a private gym instead of attending a training session.
History tells us that if neither the players nor the owners are on his side, a manager's tenure is drawing to a rapid end. Italian football is now on its winter break and Inter's next match isn't until January 6.
That either gives Benitez a chance to hold on to his job, or it gives Moratti time to appoint a new one.