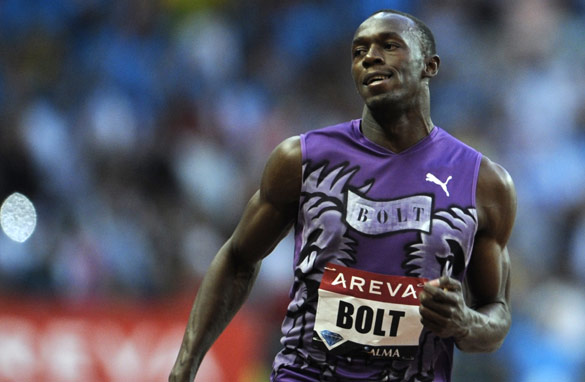 After a quiet 2010, Usain Bolt will be seeking to reassert his dominance next year. (AFP/Getty Images)
CNN's World Sport will be broadcasting its predictions for 2011 in upcoming shows between December 31-January 2. In the fifth of a series of preview blogs, Paul Gittings takes a look at sprint star Usain Bolt's prospects at the World Athletics Championships.
The 2011 track and field season will be crucial in the build-up to the 2012 Olympics, and the sport's top stars will want to lay down a marker with their performances in the major championships.
The question on everyone's lips will be: Can Usain Bolt repeat his triple triumphs at the 2008 Beijing Olympics and 2009 Berlin world championships - and again break world records to boot?
The 2011 worlds in Daegu, South Korea will see the Jamaican defend his 100m and 200m individual titles as well as his country's sprint relay title.
Despite the attentions of arch-rival Tyson Gay of the United States, expect Bolt to retain his individual crowns - but breaking his own world records will be a big ask.
His marks of 9.58 seconds and 19.19 from Berlin in 2009 could easily last a generation, if Bolt does not break them himself, and came as he built on the momentum of his Beijing gold rush.
While individual records may have to wait, the strength in depth of Jamaican sprinting increases the chances of Bolt and his cohorts breaking their own world record of 37.10 seconds in the 4x100m relay in Daegu. Aside from Bolt and Asafa Powell, a clutch of young sprinters are desperate to make their mark - witness the victory of Lerone Clarke in the Commonwealth Games in Delhi earlier this year.
The media will certainly hype up Bolt's rivalry with Gay, and that's good for a sport which has suffered from its share of doping scandals and a general decline in interest.
But from the afficianado's point of view, there is the intriguing prospect that Bolt may turn his attentions to the 400m and specifically Michael Johnson's world record time of 43.18 , which has stood for 11 long years.
Bolt's early career suggested he would be a 200-400m specialist, like American legend Johnson, and in the build-up to Beijing the 400m was very much in his sights as he prepared that winter with coach Glen Mills.
But after smashing the world 100m record in early 2008, he opted for the 100-200 double and the rest is history.
However, the showman in Bolt (and what a showman!) could surely not resist the temptation of a clean sweep of world records from 100-400 and with it athletics immortality.
It's all a question of timing. Mills said recently that Bolt would reach his peak in 2012 for the London Olympics, the assumption being that he would try to attempt his Beijing and Berlin triple, but it may just be that "Lightning" won't strike twice and he will turn his attentions to other challenges like the 400. If not then, surely in 2013.
While Bolt hogs the headlines, track and field's other superstars can sometimes be ignored, but Ethiopia's Kenenisa Bekele is arguably the greatest distance runner of all-time, succeeding Haile Gebrselassie as Olympic 10,000m champion.
Gebrselassie said he would quit after dropping out of the 2010 New York marathon, but then changed his mind, so his return in 2011 is also eagerly awaited. Likewise Paula Radcliffe, the women's marathon world-record holder who has taken time out to have a second child.
London 2012 will be their focus, and a more popular marathon gold double could not be imagined.
And when Yelena Isinbayeva isn't helping Russia to win the rights to stage football's World Cup in 2018, she can be seen breaking world records just about every week in the pole vault. After taking a break in 2010,  the two-time world and Olympic champion will surely return next year with a vengeance.