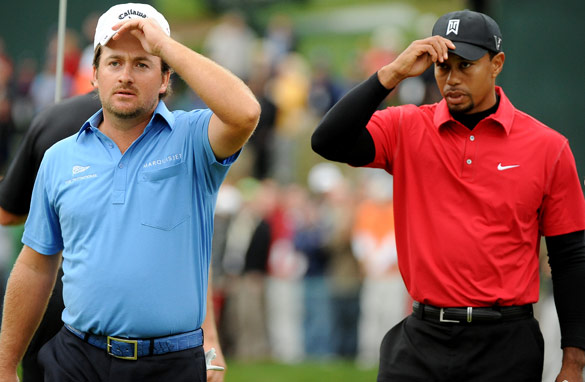 Tiger Woods, right, lost to Graeme McDowell in a playoff at the charity tournament he hosts. (AFP/Getty Images)
CNN's World Sport will be broadcasting its predictions for 2011 in upcoming shows between December 31-January 2. In the fourth of a series of preview blogs, Don Riddell takes a look at Tiger Woods' chances of becoming a major force in golf again.
When someone dominates a sport, the question is not so much will they win major tournaments, but how many. For the last decade, that has been the question for Tiger Woods every season: will it be one, two, three or all four? The smart money used to be reserved for at least two of those career-defining golf trophies. At his peak, barely anyone else got a look-in. How things have changed.
You'd never have thought that a run of top-15 finishes would have been positive for Woods, but such were the depths that the former world number one plumbed in 2010, a run of such results was good news.
How could it not be? Shed of his aura of invincibility by a humiliating scandal, Tiger had to suffer the indignity of a missed cut, an 18-over-par performance and ties for 46th and 78th place. He didn't win anything in 2010. No majors, no tournaments, no skins games, nothing.
Will he ever recover the prowess that made him a sporting legend and a global celebrity? Perhaps. But the golfing landscape has shifted so seismically in the last 12 months that the question can no longer be asked in isolation.
Tiger used to intimidate his opponents by his very presence. It was said that with Woods in the field, the rest would concede him a stroke every round. These were players that crumbled in his company, players that didn't think they could beat him and didn't know how it felt to win major trophies.
No longer.
While Woods was losing his wife, his sponsors, a winning habit and the top ranking, his rivals were getting used to winning, winning, winning.
Graeme McDowell and Martin Kaymer won majors in 2010. Justin Rose, Ian Poulter, Rory McIlroy all won on the PGA Tour. Luke Donald had a brilliant season, Lee Westwood deservedly became the world's top golfer.
And these were just the Europeans. Closer to home, Phil Mickelson and Jim Furyk have still got it, Jeff Overton, Bubba Watson and Rickie Fowler have become established. Dustin Johnson could easily have won two majors in 2010.
Tiger would seem to be on the way back. Augusta was the venue for his long-awaited comeback in April, but August marked the turning point. With a new swing coach, Sean Foley, in his corner and a painful divorce completed, he was able to focus on his game.
But with the competition now ranged against him, I think he'll have to be even better than he once was if he's to match or overhaul the record of 18 major titles held by  Jack Nicklaus. At the end of the day, it's against Jack's record that he will be judged.
As for 2011, I believe it's the rising tide of European golfers that will outshine him on the major stage.
They used to ask what golf would be without Tiger Woods. With the new generation allowed to flourish in his absence, the sport has just got a whole lot more interesting.