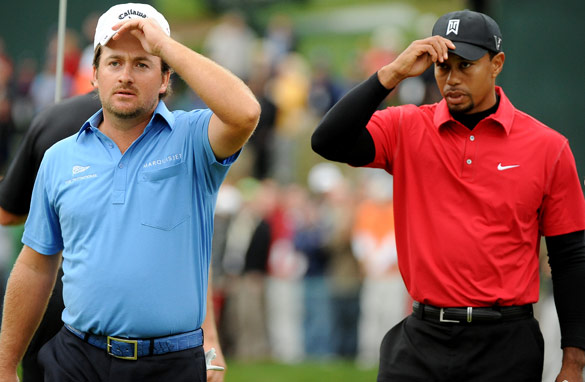 Tiger Woods, right, lost to Graeme McDowell in a playoff at the charity tournament he hosts. (AFP/Getty Images)
CNN's World Sport will be broadcasting its predictions for 2011 in upcoming shows between December 31-January 2. In the fourth of a series of preview blogs, Don Riddell takes a look at Tiger Woods' chances of becoming a major force in golf again.
When someone dominates a sport, the question is not so much will they win major tournaments, but how many. For the last decade, that has been the question for Tiger Woods every season: will it be one, two, three or all four? The smart money used to be reserved for at least two of those career-defining golf trophies. At his peak, barely anyone else got a look-in. How things have changed.
You'd never have thought that a run of top-15 finishes would have been positive for Woods, but such were the depths that the former world number one plumbed in 2010, a run of such results was good news.