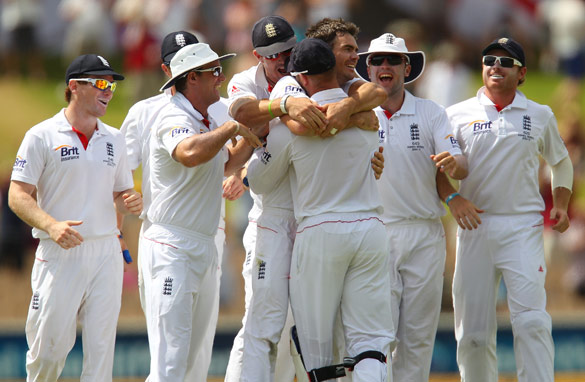 England's cricketers will be seeking to win the 50-over World Cup for the first time next year.
CNN's World Sport will be broadcasting its predictions for 2011 in upcoming shows between December 31-January 2. In the third of a series of preview blogs, Terry Baddoo takes a look at the contenders for next year's Cricket World Cup.
On present form, I wouldn't put much money on Australia claiming their fourth consecutive World Cup title next year. In fact, in their current state of mind it's going to take a Herculean effort for the Aussies to even make a fist of it on the Indian sub-continent when the four-yearly event starts in late February.
At the time of writing, not only do they trail England in the Ashes series, but there seems to be a massive loss of confidence in their leadership, with serious questions being asked about skipper Ricky Ponting for the first time I can remember. But the one-day game is not Test cricket, and if it becomes a question of guts, you cannot rule the Aussies out - especially as they are still the top-ranked team in the 50-over format.
Australia's current nemesis, England, have never won the World Cup, but are as well-placed as anyone to break their duck. They won the Twenty20 World Cup, and have that swashbuckling X-factor in the shape of an in-form Kevin Pietersen, who recalls the halcyon days of the great Ian Botham in his ability to rise to the big occasion.
Home advantage will obviously be a factor for India and Sri Lanka. The Indians have had a mixed year in the lead-up to the World Cup despite retaining their place as the world's top team in the five-day game, though they've emerged with a blend of youth and experience with lots of competition for places that could undoubtedly make them a force.
That said, several big names have said they fear that India may buckle under the weight of expectation from their passionate home fans, who, if the razzle-dazzle of the Indian Premier League Twenty20 competition is anything to go by, will surely turn this tournament into a festival and a pressure cooker for their own team.
Sri Lanka will be under slightly less pressure, as they host only 12 of the matches, while India get 29 and Bangladesh just eight. The Sri Lankans will nonetheless be expected to shine. And while I've read that some experts believe they're not consistent enough to go all the way, they're currently third in the ODI world rankings, behind Australia and India, so must be doing something right.
South Africa are just behind them in fourth, and some have the Proteas as dark-horse title contenders. They certainly won't lack for preparation, as their grandly-named "Operation World Cup" has expressly focused on producing a side that can end their long wait for a first success in the tournament.
Pakistan, who were stripped of hosting rights for security reasons, also have the bit between their teeth, and recently held a special week-long training camp which focused heavily on their ailing batsman. They'll precede the World Cup with three Twenty20 matches, two Test matches and six one-dayers in New Zealand, and will arrive ready, willing, if not 100% able to lift the World Cup for the second time.
So, which of these teams will lift the trophy? Or will it be none of the above? After all, I didn't even mention New Zealand or two-time winners the West Indies. Well, I'm not going to profess any inside knowledge, and I'm willing to bow to those who follow the game more closely than I do.
All the same, I'm going with my gut. This is England's year. Unless, of course, you know different.