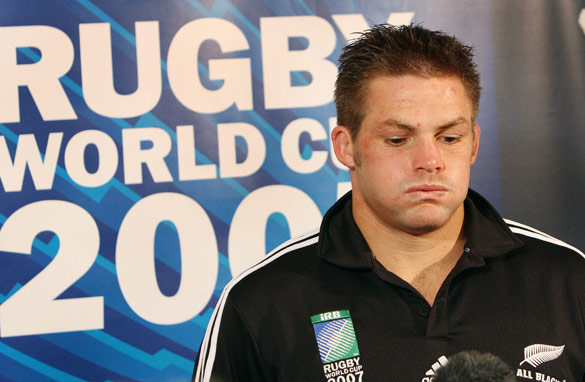 New Zealand captain Richie McCaw will seek to make up for his 2007 World Cup disappointment. (AFP/Getty Images)
CNN's World Sport will be broadcasting its predictions for 2011 in upcoming shows between December 31-January 2. In the second of a series of preview blogs, Alex Thomas takes a look at the contenders for next year's Rugby World Cup.
After nearly two and a half decades of being both the planet's best rugby side and its biggest chokers, New Zealand will finally banish their demons and be crowned world champions on home soil in October.
The All Blacks have been the team to beat for far longer than a quarter of a century, but it wasn't until 1987 that rugby union's first World Cup was staged. Suddenly, the sport's leading side was determined by a single tournament instead of dominance over a period of time.
The change in focus seemed to suit the Kiwis. They won that opening World Cup and reached the final again eight years later. However, they lost a titanic title showdown against South Africa in 1995 and haven't gone beyond the semifinals since then.
Consistent but also hugely anti-climactic for a nation which, despite a population of less than five million, expects and demands to have the world's top rugby side. Sometimes, confidence in the superiority of its team can border on arrogance.
At the last World Cup in France in 2007, New Zealand's tourist board built a temporary office shaped like a giant rugby ball underneath the Eiffel Tower. The thinking was sound - start selling trips for the next World Cup as the country's rugby team powered to victory in the current one.
The only snag was that the office did not open until just before the semifinals - and a day after the All Blacks were knocked out by France at the quarterfinal stage, their worst World Cup result.
Which is not to say that New Zealand are serial World Cup underachievers. They have still won more matches and scored more points and more tries than any other country in the tournament's history.
They will almost certainly start the competition as favorites, and I am backing the All Blacks to use home advantage as an inspiration, not a weight that will drag down their performances.
While players of the quality of Richie McCaw and Dan Carter will not have it all their own way, it is hard to make a convincing case for any of New Zealand's rivals.
On any given day they could be beaten, for example, by England, Australia, South Africa or France. However, all of those teams have shown more frailties than the All Blacks over the last 12 months.
There will still be surprises at the 2011 Rugby World Cup, and they may be sprung by the teams from the Pacific Islands. Samoa's players told me it will feel like a home tournament to them as well, while Fiji and Tonga should also benefit from strong support.
This prediction game can be a tricky one, but if you believe that sport rewards hard work and talent, it's impossible to look beyond New Zealand as 2011's world rugby champions.