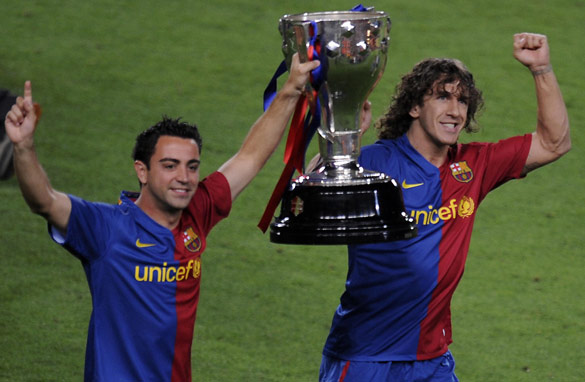 Can Barcelona stars Xavi, left, and Carles Puyol lift the Champions League trophy again this season? (Getty Images)
CNN's World Sport will be broadcasting its predictions for 2011 in upcoming shows between December 31-January 2. First up in a series of preview blogs, Pedro Pinto takes a look at the contenders for this season's Champions League.
As we enter the knockout stages of the UEFA Champions League, which is where the competition truly comes to life, it's time to look at who will be named Europe's best football team come May 28.
In order to lift the trophy you need three key ingredients: talent, desire and luck. You certainly don't need to have all of them at the same time, but any club aiming to win the world's top club competition will need to have plenty of each, at one time or another.
In my mind, there is only one club that has what it takes this season: Barcelona.
Let's start with talent. No team in Europe has more of it than the Spanish champions. I don't have to sit here and tell you how good Puyol, Xavi, Messi and company are. You know that. What I will do is give you some numbers to get my point across, and I will use Messi as the reference.
So far this season, little Leo has scored 24 goals in 20 games. That's a goal every 75 minutes. If we thought his grand total of 47 last season was spectacular, then what are we going to say if he reaches the 60 mark? Because on this kind of pace, he will.
Messi's numbers tell a story not only of individual brilliance, but of team success. If you have watched Barcelona play, then you know how dependent they are on ball circulation and the involvement of every player on the pitch. If the Argentine superstar is scoring that many goals, it's because his teammates are creating them.
In the last seven games, Barcelona have netted 28 goals and those goals have been shared by 12 players. In other words, it's not just Messi, David Villa or Xavi who are making the difference. This is a talented team playing at the top of their game and they will be impossible to stop over two legs when the round of 16 begins in February.
There will be plenty of burning desire in Barcelona's squad to win the competition this year. Their heartbreaking semifinal defeat to Inter Milan last season will still be weighing heavily on their minds as they start the knockout phase.
I was at the Camp Nou when the defending champions were eliminated by the Nerazzuri, and I felt the anger and frustration in the air. Barca felt they were the best team in Europe and that they should have gone through. They will use that sentiment to fuel their title-winning run. Watch out for the Catalans making a statement as they march towards the title.
So what about that final ingredient, luck? Of course that is a variable, and I can't predict at this stage of the season whether Pep Guardiola's team will be lucky with the various draws or in certain games. What I do believe is that in football as in life, you make your own luck, and a team that attacks as much Barcelona will always have a high probability of scoring goals and winning games.
So if Barcelona are the clear favourites, what other teams can make a run at the title? I am going to pick two others: Chelsea and Bayern Munich. The English club may be struggling at the moment but when John Terry and Frank Lampard return to full fitness, they will be as solid as ever. Furthermore, they will prioritize the Champions League over the Premier League, meaning coach Carlo Ancelotti will rest his stars for domestic games in order to win in Europe.
With Bayern Munich, now that star wingers Franck Ribery and Arjen Robben have recovered from injuries, the German champions will be a dangerous proposition despite this year's unexpectedly poor domestic form. They made the final last year and considering they have exactly the same squad this season, they could make the title match again.