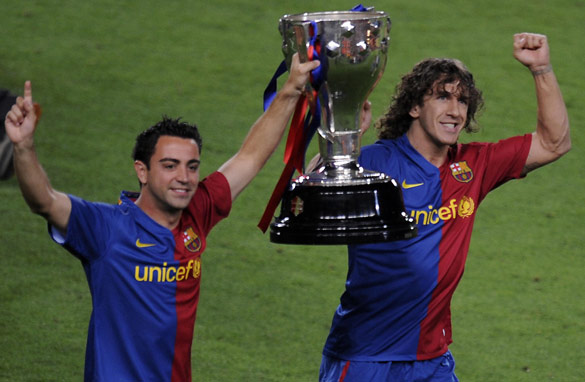 Can Barcelona stars Xavi, left, and Carles Puyol lift the Champions League trophy again this season? (Getty Images)
CNN's World Sport will be broadcasting its predictions for 2011 in upcoming shows between December 31-January 2. First up in a series of preview blogs, Pedro Pinto takes a look at the contenders for this season's Champions League.
As we enter the knockout stages of the UEFA Champions League, which is where the competition truly comes to life, it's time to look at who will be named Europe's best football team come May 28.
In order to lift the trophy you need three key ingredients: talent, desire and luck. You certainly don't need to have all of them at the same time, but any club aiming to win the world's top club competition will need to have plenty of each, at one time or another.
In my mind, there is only one club that has what it takes this season: Barcelona.