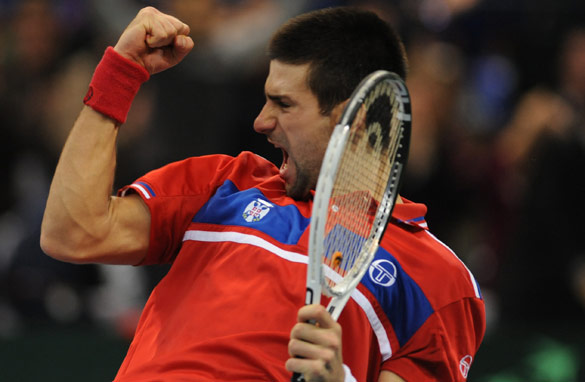 Novak Djokovic helped Serbia to a thrilling first Davis Cup title, beating France 3-2 in the final. (AFP/Getty Images)
Well done Serbia! A great Davis Cup final was just what the doctor ordered for a prestigious tennis event which desperately needed a shot in the arm.
Let's face it, the Davis Cup has lost much of its luster in recent years. The top players play sporadically in the teams tournament, preferring instead to focus on their individual careers.
But now that the men's ATP Tour has announced it will lengthen the off-season in 2012, the International Tennis Federation should use the moment to also change the format of the Davis Cup or risk it falling further into obscurity.
Rather than playing ties over the course of the best part of an entire year, why not have a week-long tournament at the end of the season?
It would be win or go home - matches would be best of three sets rather than five, and there would only be three rubbers so a tie could be played in a day. Two singles and a doubles to decide it.
Let's make it fast and furious rather than slow and largely tedious!
Since 135 nations and territories regularly compete, there could be several divisions with relegation and promotion, just like football.
Countries could bid to host the tournament, with the ITF deciding on the winner in a televised vote!
The women's Fed Cup is in a similar situation. It has rather lost its way. Theoretically, what's to stop the Davis Cup and Fed Cup being played in alternate years? For example, the Davis Cup takes center stage in 2011, the Fed Cup in 2012?
Having the tournaments every other year might encourage the top players to participate. Most want to represent their countries, but the schedule discourages those who've been around a bit.
It's time for a change and a more dynamic format is the answer – there's an audience out there, we just need a reason to watch!