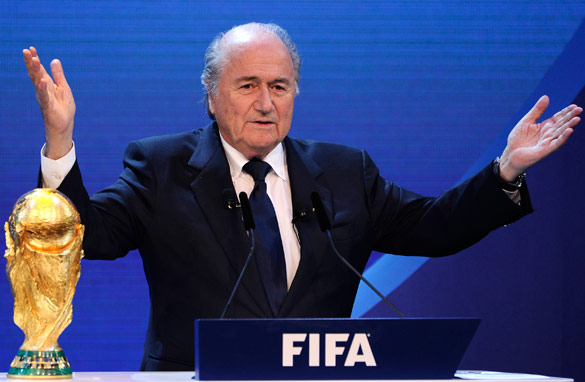 FIFA president Sepp Blatter wants to develop football around the globe. (AFP/Getty Images)
Just when we feared the old boys of FIFA might play it safe after "gambling" on fresh markets in 2010 with South Africa and then a long-awaited return to Brazil in 2014, they throw us for a loop and select two World Cup-hosting novices in Russia and Qatar. Brilliant!
During the months of wrangling over who said what to whom, and who asked who for what, it kind of got lost at times that the World Cup is a symbol of unity rather than an agent of divisiveness. But in choosing two first-timers to host, ruling body FIFA is reasserting the notion that football is a family in which each member at least has the opportunity to be an equal.
Russia's choice as the host of the 2018 World Cup is perfectly logical. No country from the former Eastern Bloc has ever hosted a World Cup, and, though Russia/USSR has been present on the world football stage for many years, there's still a feeling that we've only seen the tip of the iceberg, economically speaking. As a result, FIFA, which takes the bulk of its revenue from the World Cup, was clearly not blind to the potential of another huge untapped market.
I'm obviously somewhat sad that my native England didn't succeed, but I'm not surprised. In referring to England as "the mother country" of football, FIFA president Sepp Blatter may have encapsulated why the 1966 host didn't get the nod. FIFA is all about breaking new frontiers at the moment, and maybe the English, for all their forward thinking and expertise in handling the sport, are still seen as just too traditional - which is kind of ironic given the criticism the FIFA Executive Committee has endured about being an old boys' club.
But clearly there's life in the old dogs yet, as they then compounded their adventurous decision on 2018 by throwing caution to the wind in selecting Qatar for 2022. Like Russia, Qatar's success represents a first, as no World Cup has ever been held in the Middle East. Indeed, only one World Cup has ever been held in Asia - the 2002 finals jointly hosted by South Korea and Japan.
I was given the chance to put Qatar's case during our World Sport debate prior to the vote, and the more I looked into it the more it grew on me. A smaller World Cup host will increase the intimacy of the finals. Qatar will be cocooned in football for a month or so in 2022, and the atmosphere that creates within the country will have a knock-on effect for the TV audience.
Qatar has the money to implement its plans for technological and infrastructural improvements that will enhance the World Cup experience and compensate for those brutal summer temperatures which everyone thought would be a deal breaker.
It has a central geographical location for travel, and is in an excellent time zone for the big TV audiences in Europe, the United States and South America. It exists in a region where football is the main sporting passion, the lack of which may have contributed to the USA's downfall in this World Cup vote.
But above all, Qatar has the cache of being uncharted territory, which not only puts a twinkle in FIFA's eyes in terms of potential revenue, but also plays into the idea, trumpeted by Blatter in his preamble to the announcement, that football is more than just a game. And he's right, football can make a difference, and by choosing Russia and Qatar as hosts FIFA is once again hoping to show how much.