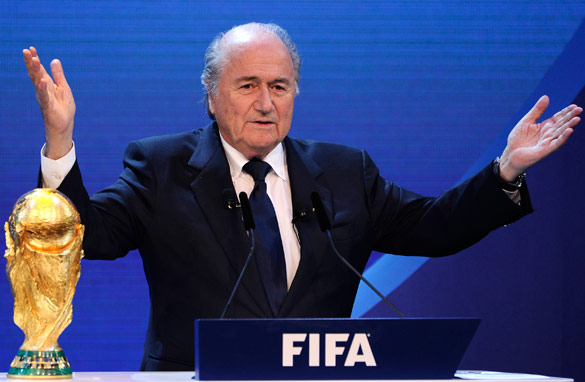 FIFA president Sepp Blatter wants to develop football around the globe. (AFP/Getty Images)
Just when we feared the old boys of FIFA might play it safe after "gambling" on fresh markets in 2010 with South Africa and then a long-awaited return to Brazil in 2014, they throw us for a loop and select two World Cup-hosting novices in Russia and Qatar. Brilliant!
During the months of wrangling over who said what to whom, and who asked who for what, it kind of got lost at times that the World Cup is a symbol of unity rather than an agent of divisiveness. But in choosing two first-timers to host, ruling body FIFA is reasserting the notion that football is a family in which each member at least has the opportunity to be an equal.
Russia's choice as the host of the 2018 World Cup is perfectly logical. No country from the former Eastern Bloc has ever hosted a World Cup, and, though Russia/USSR has been present on the world football stage for many years, there's still a feeling that we've only seen the tip of the iceberg, economically speaking. As a result, FIFA, which takes the bulk of its revenue from the World Cup, was clearly not blind to the potential of another huge untapped market.