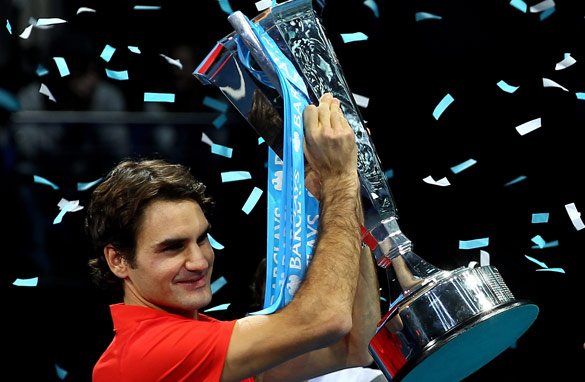 Roger Federer won the season-ending ATP Tour World Finals at London's O2 Arena on Sunday.
After Wimbledon, several well-known commentators speculated that Roger Federer would never regain the number one ranking. At the time I thought it was way too early for such speculation and found such talk quite irritating. What must have Federer thought?
Arguably the classiest man in tennis - he's given so much back to the game - treated like an also-ran after a relatively poor summer season (relative because most players would die for the results he had!)
How quick we are to write athletes off.
From his performance at the ATP World Tour Finals in London, I believe Federer could well take the 2011 season by storm. In a tournament which included the top 8 players in the world, the Swiss lost just one set throughout. That was in the final against Nadal, which in the end he won convincingly.
Agreed, the indoor surface suited Federer much more than the Mallorcan, but still, we know all about Nadal's ability to win anywhere, anytime, don't we?
The Spaniard was easily the man of 2010. He was superb in winning the final three majors, and I think he is also a fabulous ambassador for tennis. His rivalry with Federer is, in my mind, the best of all time and off the court, the two have enormous respect for each other and are quite friendly, unusual for two top athletes in the same sport (think Borg and McEnroe, Tiger and Phil).
It will be interesting to see if Nadal can keep up his stellar play next year. For me, he will have to in order to prevent Federer domination.
I asked a close acquaintance of Federer's at the US Open shortly after his semi-final defeat to Djokovic, why the Swiss was staying back so much. He told me that Roger wanted to show he could beat the best from the baseline.
It strikes me that no-one can beat Nadal from the back - at least not very often - and under new coach Paul Annacone, Federer seems to have realized that he may well as use all the talents he's been given. It's for this reason that I think the 16-time major winner will retake the number one ranking from Nadal next year.
His career goal is 20 majors. I wouldn't be too surprised if, by this time next year, he's nearing the mark, if not there!