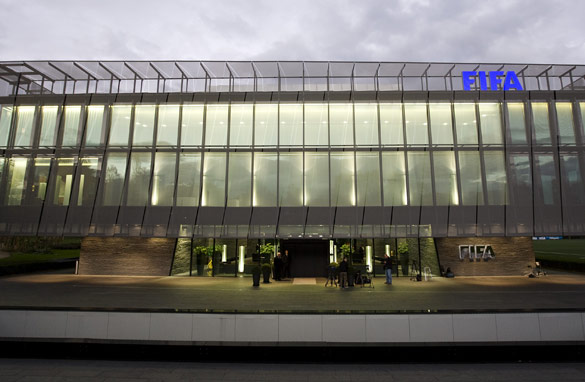 The FIFA organization has come under scrutiny ahead of Thursday's World Cup vote.
In the last few days, I have been asked several times who I think FIFA is going to pick to host the 2018 and 2022 World Cups.
My answer has always been the same. I have no clue. For 2018 it is tough to pick between the growing economic powerhouse of Russia, who have never hosted before, the "home of football" England who have not welcomed or won the event since 1966, the Iberian flair of Portugal and Spain or the pragmatic approach of Holland and Belgium.
For 2022 the selection is also complex. The U.S. you would think has a strong case after its inaugural hosting in 1994, but winning the vote is all about making friends and the fallout of the Wikileaks releases may have soured a few key relations at the wrong time.
Both Korea and Japan have been relatively recent hosts (as joint organizers in 2002) while Qatar's climate would surely make playing games in June a tough proposition despite the desire take the game to an important new region. Australia are famed for their love of sport, but are they passionate enough about football to give the event the buzz of the Sydney Olympics?
The options are tough enough but it is impossible to predict how the executive committee is going to vote because there is so much politics involved.
What I know for sure is that the World Cup decision should not come down to a roomful of executives. There should be a much larger electorate and it should feature a wider range of people of more ages and backgrounds.
The current committee is like an exclusive old boys' club. Most of these gentlemen are in their 50s and 60s, if not older, and have been part of the hierarchy for over 10 years.
They have built such intertwined personal relationships that in many ways they are as familiar as a family. But does this mean they have lost the ability to to be objective when it comes to dealing with the many people they know well-connected to the countries that are bidding to host the tournament?
I am not going to comment on the allegations of corruption surfacing from a Sunday Times sting operation or a BBC program. Money never actually changed hands when the newspaper approached the executive committee members in question, and the officials implicated in the television report were cleared in court a few years back.
However, the revelations will no doubt impact the thoughts of the chosen few bestowed with the power to vote on who should host future tournaments. They are a family after all and any such knock to the collective reputation - accurate or otherwise - will have hurt collective feelings, no doubt about it.
As far as the World Cup vote is concerned, let's take a look at how it should change. In my mind, the hosts should be decided in the following manner:
– Every one of FIFA's 208 member associations should have an internally-elected representative who would take part in the vote.
– These elected representatives would have terms of four to six years, so they would never vote on more than one World Cup host ballot.
– All members would gather in Zurich and vote until an absolute majority winner is found.
These measures would surely help to freshen up the image of FIFA and in my view they would represent a more balanced and fair reflection of what the football world thinks and feels.
And surely, with each voter having less power, the chances they would be approached with bribes would surely diminish? Either way, it will be as much a surprise to me as to the millions of fans tuning in around the world when the host are finally announced. But maybe you know something I don't?
Editor's Note: Watch FIFA's World Cup announcement live on CNN.com from 1500 GMT (1000 ET).