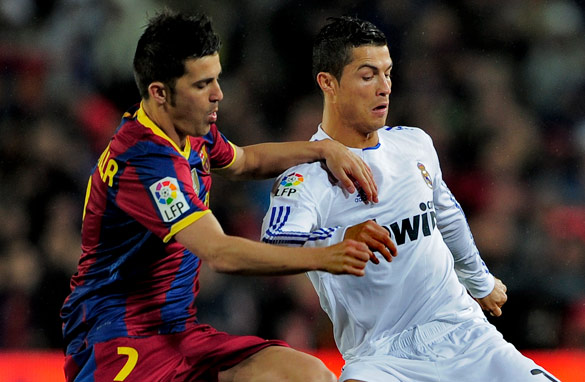 Barcelona's David Villa, left, and Cristiano Ronaldo of Real Madrid are among La Liga's galaxy of stars. (AFP/Getty Images)
Like countless football fans around the world, the highlight of my Monday was watching the Clasico: Barcelona versus Real Madrid, two of the biggest clubs in world football going head to head.
Unlike countless fans, I had to wait until 4 a.m. for kick-off ... because I live in Hong Kong. But it was worth it to see a thrilling match in which Barca crushed their Spanish title rivals 5-0.
I am the reason Real Madrid president Florentino Perez signs players like Zidane, Beckham and Cristiano Ronaldo: I'm an Asian fan passionate about European football, eager to support a club in a far-off town as if it were my own, and happy to spend my money on all the shirts, shorts, balls and related merchandise that clubs mass-produce.
There's just one problem for Mr. Perez. My heart belongs to the English Premier League's Liverpool, and I'm not alone.