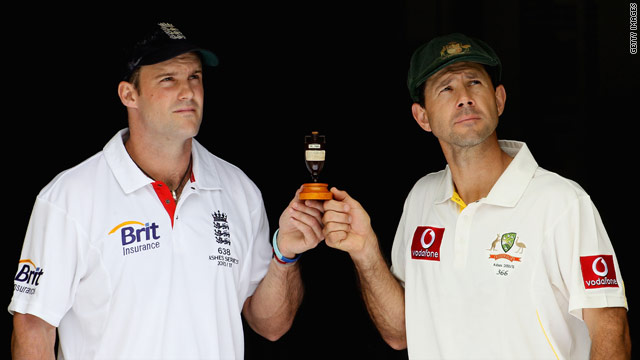 Opposing captains Andrew Strauss, left, and Ricky Ponting will be hoping their team lifts the Ashes urn.
Having reported from Australia on every day of every Test match during England's 5-0 whitewash in the last Ashes contest there, I believe Andrew Strauss and his men face a mammoth task to win this series.
Yes, England's team is more settled than Australia's and, yes, they have shown better recent form and a more coherent and consistent selection policy. However, no Ashes series was ever won with superior rhetoric before the action got under way.
If that sounds obvious, it's worth transporting you back to November 2006, just 14 months after England won back the famous little Ashes urn in a scintillating contest on home soil -– and they had high hopes of winning "Down Under" for the first time in 20 years.
Michael Vaughan was injured, so England were captained by Andrew "Freddie" Flintoff –- almost as big a talisman to his team as Michael Jordan to the Chicago Bulls or Colin Montgomerie to a European Ryder Cup side.
By now, most of you will have read how fast bowler Steve Harmison –- who had terrorized Australia's batsmen with his pace and bounce the year before –- lamely bowled his opening ball of the 2006-07 Ashes series so wide that it went straight to his skipper, Flintoff, at second slip.
My recollection is that the loudest noise in the Gabba at that moment was the collective groan of England's large media contingent. Journalists take care to be subjective when reporting on any of their country's sports teams but no-one enjoyed detailing the demise of Fred and his men over the next couple of months.
So here we are again and, at the very least, we can be optimistic for a closer contest this time. Although Australia were head and shoulders above every cricketing nation in the world for almost two decades, they are certainly not the force they were.
They've dropped down to fifth in the global Test rankings and there are ominous echoes of their wilderness years during the 1980s.
Back then, Allan Border had the task of leading his country out of its cricketing problems. Now, Australia's current captain Ricky Ponting has a different problem. Can he leave a squad capable of beating the best in the world before he hangs up his spikes? Beating the English and reclaiming the Ashes would be a start.