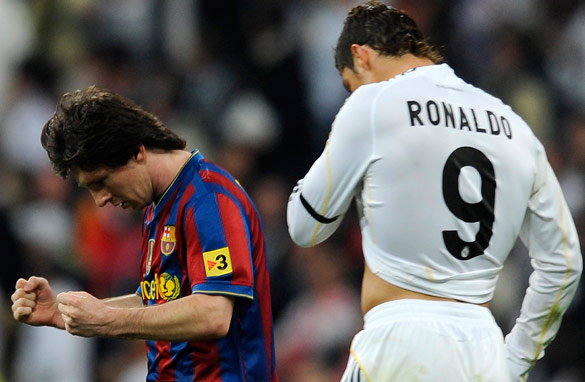 Cristiano Ronaldo (R) and Lionel Messi go head to head when Barcelona play Real Madrid.
The best Clasico of all time? The upcoming clash between arch rivals Barcelona and Real Madrid comes at a time when both teams are at the top of their game and beating all sorts of records in Spain. We should be in for a treat!
I watched my first Clasico when I was seven or eight years old. I distinctly remember Diego Maradona running around with his small shorts and big mop of hair. Throughout the last three decades there have been so many great players to shine in this contest, which is more than a game between rivals, it is a battle between regions.
Monday's match at the Camp Nou will see the top two footballers on the planet going head to head. Cristiano Ronaldo of Portugal has 15 goals in 12 league games, the most scored by a Real Madrid player at this stage of the season since 1937. Not only is he scoring goals, he is making them. Just ask "El Pipita," Gonzalo Higuain. Most of his seven goals have come from the boots of CR7.
If Cristiano has been phenomenal, then Leo Messi has been exceptional. The little Argentine also has 13 goals to his name and has been at the center of everything Barcelona have done this season. With Xavi struggling for fitness and for form, the reigning World Player of the Year has taken on more responsibility to start and finish attacking moves. Leo has just scored his 100th goal for Barca, which at 23 years of age is a formidable feat.
Of course this season's first Clasico will be about much more than two players. It will be a clash between two teams who are playing the best collective football on the planet right now.
If you have watched Barcelona in the last three years, then you know how they play. Short, quick passes, from side to side, until they find a hole to penetrate. When they do, they are deadly. Invariably it's Messi, Pedro or David Villa who is at the end of their well crafted moves. Even the former Valencia man has started to find his feet and that has led Barcelona to become even more dangerous. Just ask Almeria. They were thrashed 8-0 at home this past weekend.
Real Madrid's brand of football has been just as effective, if not as spectacular. Jose Mourinho's priority when he arrived was to create a solid unit who could win on a short-term basis. In the first few matches, Los Blancos struggled to impose themselves on their opponents. They netted only six goals in their first five games. Since then, however, it has been a different story. They have put together a seven-match winning streak in which they have scored a whopping 27 goals. An average of nearly four goals per game.
So what game can we expect at the Camp Nou on Monday? I believe we will see an open, entertaining affair, with two teams going right at each other's throats. The title may not be decided in these 90 minutes, but the unofficial crown of best team in the world will certainly be. And we all know that sometimes, bragging rights are more important than trophies.
As the countdown to this contest continues, why not send me your predictions on the score and your thoughts on whether this will be the greatest Clasico of all time?