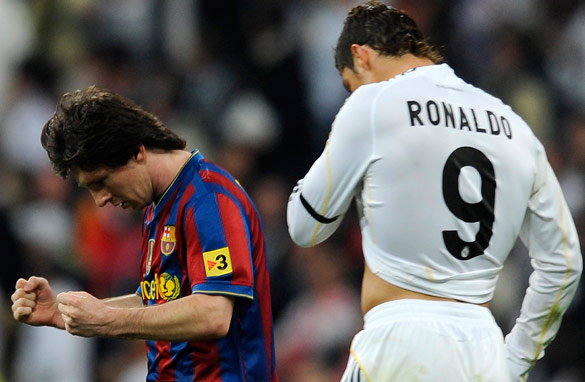 Cristiano Ronaldo (R) and Lionel Messi go head to head when Barcelona play Real Madrid.
The best Clasico of all time? The upcoming clash between arch rivals Barcelona and Real Madrid comes at a time when both teams are at the top of their game and beating all sorts of records in Spain. We should be in for a treat!
I watched my first Clasico when I was seven or eight years old. I distinctly remember Diego Maradona running around with his small shorts and big mop of hair. Throughout the last three decades there have been so many great players to shine in this contest, which is more than a game between rivals, it is a battle between regions.
Monday's match at the Camp Nou will see the top two footballers on the planet going head to head. Cristiano Ronaldo of Portugal has 15 goals in 12 league games, the most scored by a Real Madrid player at this stage of the season since 1937. Not only is he scoring goals, he is making them. Just ask "El Pipita," Gonzalo Higuain. Most of his seven goals have come from the boots of CR7.