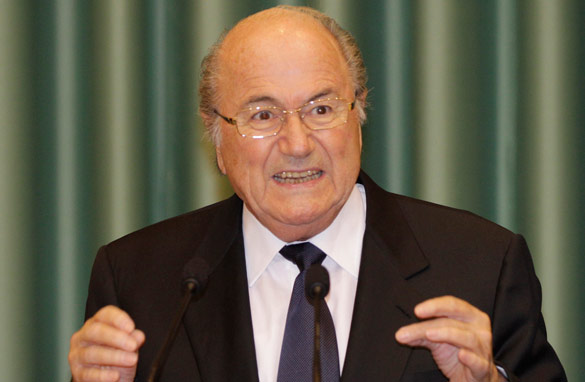 The 74-year-old Sepp Blatter has been president of FIFA since 1998. (AFP/Getty Images)
FIFA's guilty verdict against two of its top officials in the World Cup "cash for votes" scandal isn't surprising. The case was reportedly so cut and dried that it would have been counter-productive for football's ruling body to be seen to protect its own. What is surprising, however, is that FIFA claims such righteous indignation that this kind of corruption exists within its ranks.
Absolute power corrupts absolutely, as they say, and FIFA has managed to carve itself a niche as the ultimate untouchable in the sporting world, even to the extent that it puts its own laws above those of actual governments by forbidding political interference in football matters under pain of expulsion for the guilty member country.
Furthermore, under the reign of its current patriarch, Sepp Blatter, FIFA has been as focused on the buck as the ball, mutating from a so-called "family" into a money-making machine. For example, South African traders complained of being forced out at this year's World Cup as FIFA strictly enforced the commercial rights agreement it requires from any host nation. 
Little wonder then that with a "What's in it for us?" mentality permeating the brotherhood, a "What's in it for me?" mentality is just a step away.
Theoretically, of course, FIFA is safeguarded against the frailties of human nature by being a democracy, with voting delegates representing the interests of each member nation. However, it appears to work less than perfectly in practice, with a select group calling the shots. For example, how else can you explain a situation whereby, long before December's vote, President Blatter was able to state that the 2018 World Cup is going to Europe.
"There is a movement at the moment among the various candidates that in the end it would be a good solution if the candidates for 2018 would only be those from Europe," he said at a news conference in January. "It's not been finally decided but it's the idea, also to make the work of FIFA easier and especially that of the executive committee."
Easier for the executive committee! Aren't they supposed to serve football instead of the other way around? And who are they anyway, besides 24 largely anonymous men (22 now that Nigeria's Amos Adamu and Oceania president Reynald Temarii of Tahiti have been discredited) who'll decide the destination of not one but two World Cups - the biggest single events in global sport.
The fate of the many resides in the hands of the few, thus opening the way for corruption. Why? Because influencing one or two votes among 24 is so much easier and cheaper than trying to have a significant effect on a larger group. And any decisions they make can potentially have more impact, which is why the process has to change.
FIFA, especially in regard to World Cup bids, still gives the impression of being an elitist boys' club. And, despite paying lip-service to increased transparency and accountability, there are still too few checks and balances when it comes to making major decisions.
Of course, one or two bad apples don't spoil the whole bunch, but it certainly leaves a bit of a stink in the bottom of the barrel doesn't it?