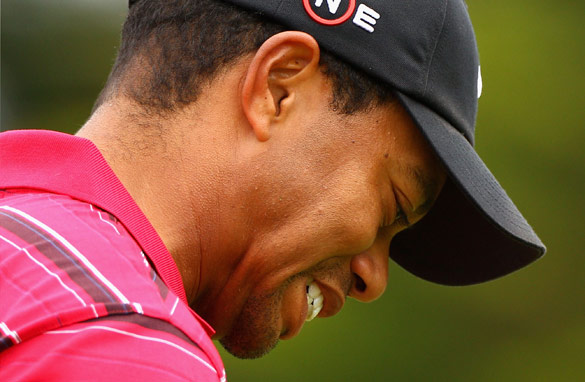 Tiger Woods has had a turbulent 12 months following revelations about his personal life.
It is just under a year since Tiger Woods crashed his SUV into a fire hydrant near his Florida home and set in chain a sequence of events which saw his tangled personal life become front-page news for week after week.
It was a public relations disaster and Woods went into a self-imposed exile, only returning to competitive golf for the Augusta Masters in April.
A fourth-place finish at the first major led many to predict that it would take only a matter of weeks for the 14-time major winner to regain his former preeminence and dominate his fellow professionals.
But the opposite happened and despite the odd exception - another decent showing at the U.S. Open and dogged display at the Ryder Cup - it has been a dispiriting season for Tiger, culminating in his loss of the World No.1 spot after five years to England's Lee Westwood.
He is set to be win less in a year for the first time in his professional career and his target of equaling the record 18 majors of Jack Nicklaus looks a long way off.
Thoroughly deserved one might say, but whatever your views on Woods' private life, the fact is that every professional player owes him a huge debt of gratitude for attracting the massive prize money on offer as big corporations battled to be associated with him.
He was golf.
Tournaments lacking the American superstar were considered almost second-class affairs and TV-ratings plummeted if he was not involved. 'The Tiger effect' also surely had big influence on the decision by the IOC to include golf in the Olympic program in 2016.
But nobody could surely argue this was healthy state of affairs for a game played by millions on all continents to be so reliant on one man to represent its fortunes.
As Tiger battled his personal demons and with the world economy in recession, the game's money men must have taken a sharp intake of breath.
But they should be reassured. Golf survived without Tiger.
And it's actually been a thoroughly good thing that in the vacuum left by his fall from grace and fall the top spot, other players have stepped up to the mark.
37-year-old Westwood thoroughly deserves to be number one for his consistency, Phil Mickelson continues to delight and frustrate in equal parts, but snapping at their heels are a clutch of young guns led by PGA Championship winner Martin Kaymer, Northern Ireland pair Rory McIlroy and U.S. Open champion Graeme McDowell, Rickie Fowler, Ricky Barnes from the States, Ryo Ishikawa from Japan.
The list is growing, the Molinari brothers and Matteo Manassero, all from Italy, the latter the youngest European Tour winner at 17.
Of course, Tiger isn't going to take this on the chin and just walk away.
A fascinating theme for next year will be his struggle to get back to the top, to win another major, but this unhealthy obsession with one man is over for good and I think that's a good thing.