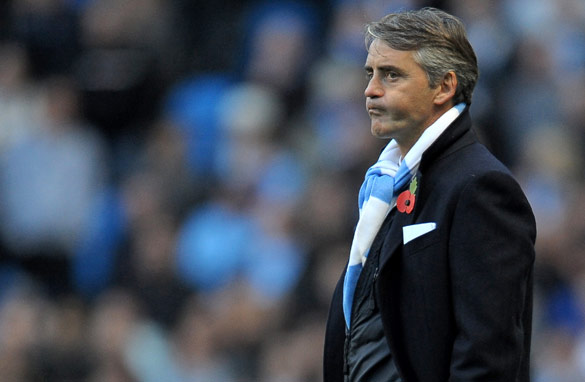 Roberto Mancini's men failed to impress with another 0-0 draw against Birmingham City on Saturday.
Money can't buy you love, and it can't buy you trophies either, especially when you have the wrong man calling the shots.
Manchester City, who suffered another misfiring moment at the weekend, are about as likely to win silverware with Roberto Mancini sat in their dugout as pigs suddenly mastering the art of flight.
Boos greeted the players and the manager at the City of Manchester Stadium as the final whistle sounded following a 0-0 draw with Birmingham on Saturday.
Another poor performance at home frustrated the supporters. That's three straight scoreless games in front of their own fans, part of a run which has seen the most expensively assembled team in England win only one of their last five league matches.
You would expect Mancini to express some concern, but after the clash he said he didn't feel any pressure from the media and dismissed any speculation about his future as trivial, especially at this point of the season.
Was this a defense mechanism perhaps? Well if it was, it was certainly a bad one. What most fans would expect from their manager after another poor performance would be a sense of urgency and a few passionate words of inspiration.
The problem is Mancini is not that kind of man. He never was, and he never will be, and that's the reason why the Italian coach won't be able to get the best out of this group of players who earn too much to care about every game and performance without motivation from their manager. Mancini has clashed with the likes of Craig Bellamy and Carlos Tevez in the past and will continue to struggle to cope with the more charismatic characters in the dressing room.
His distant and detached style of management may work with many members of the squad, but it won't sit well with the ones who lead by example and expect the same from their boss.
If his management style hasn't been ideal, then Mancini's squad rotation policy has also failed.
In an attempt to keep his players happy, he has often changed his line-up and tactics. Europa League games have served to give some of the higher-profile substitutes a chance to shine, but it has come at a cost.
The team hasn't blended as well as it should by now and continues to struggle to find its identity. Instead of rotation, he should have sought consolidation.
Look at what Jose Mourinho has done at Real Madrid. He has fielded a largely unchanged starting eleven through the first 15 games of the season.
The likes of Karim Benzema, Lassana Diarra and Raul Albiol may be pouting on the bench, but the team is winning. He has worked mainly with a core group of players, inspired them and given them an identity.
When the time comes that Mourinho feels his tactics and philosophy have been assimilated, he will change his line-up. But for now, there are bigger fish to fry.
Curiously, Mourinho would be one of the few managers capable of winning trophies in the short term at City. Mancini may not be the right man for the job, but there aren't too many coaches who would fit the bill.
So what is the solution? Well the directors at the club are in a no-win situation at present. Firing their manager mid-season would be counter productive. It would create even more confusion. Furthermore, whoever came in wouldn't have the time or the space to be successful.
Mancini will most probably stay until the end of the season. At that point, even if he secures European Champions League football, he should be let go, and a stronger, more passionate leader should be brought in. Fancy a new challenge, Mr. Mourinho?