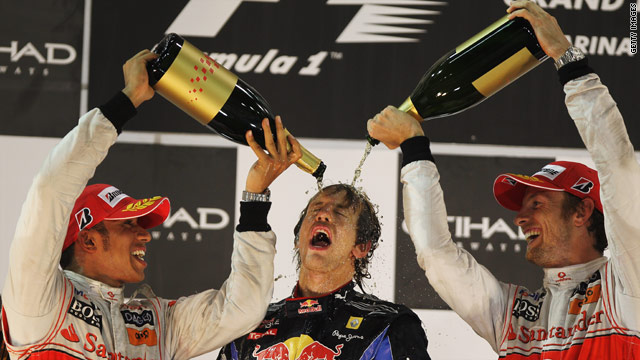 Champions all. 2008 and 09 F1 title winners Hamilton and Button celebrate with Vettel.
Fernando Alonso might have been going for a third F1 championship, and it was well within his grasp. But he was almost a forgotten man at the finish in Abu Dhabi.
A disastrous race meant that the Spaniard trailed home in a useless seventh place, and as the 2008 champion Lewis Hamilton and the '09 winner Jensen Button sprayed a delirious Sebastian Vettel with champagne, Alonso's last title ('06) must have felt like a long time ago.
It has been a spectacular sporting year for Spain, but this one eluded them. And while Spaniards and Ferrari fanatics will be crushed, few others will have sympathy for a driver and a team that many said cheated its way to the top of the standings.
In a clear breach of the rules, Alonso's teammate Felipe Massa was ordered to let him past in the German Grand Prix. If he'd won the title by any less than the seven points he gained that day, some would have forever viewed his third title as tainted and it's hard to disagree with them.
But Vettel rendered such arguments academic as he continued his ground breaking exploits.
He had already set records as F1's youngest-ever pole and race winner and, by some five months, he's now its youngest-ever champion.
He's worthy of the title too, having claimed no less than 10 pole positions and five checkered flags in 2010. He's undoubtedly quick and supremely self-confident. He has improved all season and was peerless in both qualifying and racing in Abu Dhabi.
Vettel was inspired by the great Michael Schumacher. As Germany's first F1 champion, he made the sport popular there and takes some of the credit for the emergence of a man that has been described as a 'baby Schumi'.
They have more than just nationality in common. While Red Bull's lead driver preferred to be known as the 'new Vettel', his focus, driving style and hands-on approach are reminiscent of the seven-time world champion.
Schumacher's unfulfilled 2010 comeback meant that Vettel got to race the man that once inspired him.
But they didn't race for long in Abu Dhabi. Schumacher's Mercedes was destroyed in a first-lap collision, he departed the scene on foot and 54 laps later Vettel was taking an emotional bow. Germany had witnessed an almost poetic passing of the baton from one champion to another in the next generation.
Like Schumacher, Vettel has the look of a man that could go on to dominate this sport for many years to come.