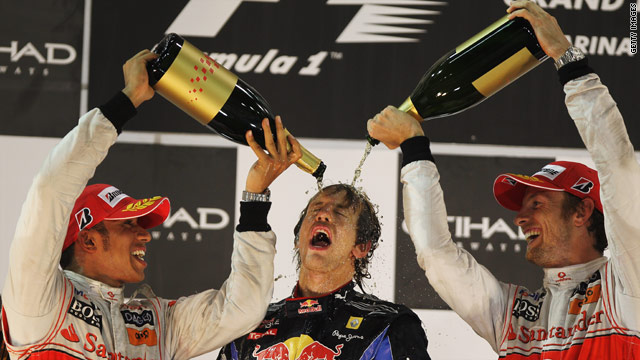 Champions all. 2008 and 09 F1 title winners Hamilton and Button celebrate with Vettel.
Fernando Alonso might have been going for a third F1 championship, and it was well within his grasp. But he was almost a forgotten man at the finish in Abu Dhabi.
A disastrous race meant that the Spaniard trailed home in a useless seventh place, and as the 2008 champion Lewis Hamilton and the '09 winner Jensen Button sprayed a delirious Sebastian Vettel with champagne, Alonso's last title ('06) must have felt like a long time ago.
It has been a spectacular sporting year for Spain, but this one eluded them. And while Spaniards and Ferrari fanatics will be crushed, few others will have sympathy for a driver and a team that many said cheated its way to the top of the standings.