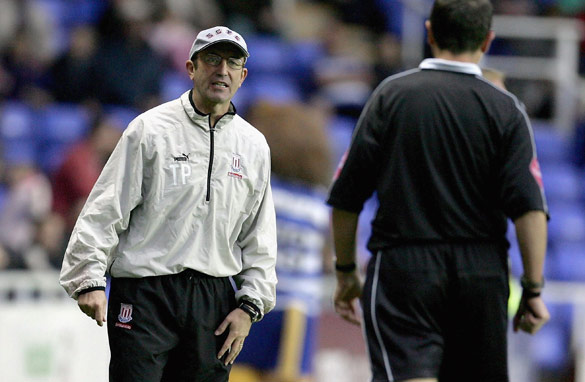 Stoke manager Tony Pulis has proposed a shake-up of the refereeing system in England. (Getty Images)
It's a brilliant idea - a league table for referees, with promotion and relegation at the end of each season so that the English Premier League gets the best-performing officials.
After reading about the proposition by Stoke City manager Tony Pulis, I was surprised to learn that there is no pecking order in terms of who gets what game, as it seems like I see Howard Webb on my television almost every time one of the big-four clubs takes the field.
However, according to the Professional Game Match Officials board, which looks after the referees, there is no such thing as a hierarchy among top-fight officials. Instead, a list of names for all matches is drawn from a select group that is sent out every Monday. So, technically, the likes of Chelsea and Manchester United do not get the best of the best every week.
At present, clubs and managers do get the opportunity to assess officials after every game, but Pulis wants to take it a step further by giving the clubs the chance to vote on officials at the end each season, with the lowest-ranked officials demoted to the Championship (the English second division) - from which the top refs would become their replacements.
Personally, I think that's as it should be. Too often in football, referees make mistakes that come at a huge cost to the clubs, whether in terms of points lost or players lost to suspension, and though they are sometimes taken off the top list for a short period for such transgressions, there is not a system transparent enough to deal with the situation. Yes, they may be pilloried in the press or hammered by the fans, and they presumably get some kind of internal review, but over the following weeks, months and years, there they are still officiating the big games, and clubs currently have no influence in their selection.
Therefore, a league table should placate those people who believe that referees - unwittingly or otherwise - have their biases, and are influenced by the status of the teams they're officiating and the clout of the big-name managers. Often it may not be intentional, but getting dazzled by star power is only human nature, and any system that makes an official question the motives for his judgment is surely only a failsafe that will make him do his job better.
So good on you Tony Pulis for turning a negative (Stoke being denied a penalty against Sunderland at the weekend) into a positive, with a valid suggestion that could be adopted throughout the game, never mind just in the Premier League.
Players, managers, fans and even directors are required to be accountable, so why not the refs?