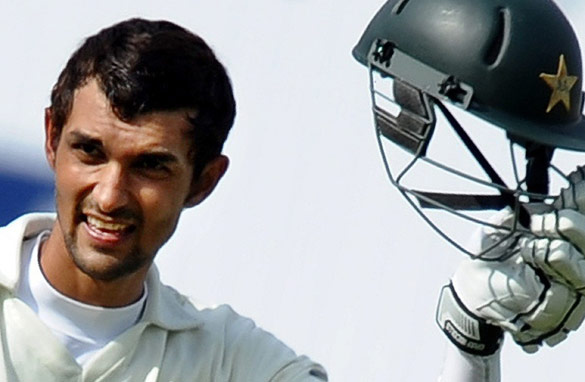 Pakistan wicketkeeper Zulqarnain Haider caused a furor by leaving the team hotel and flying to London on Monday.
Forget Benjamin Button. The curious case of Zulqarnain Haider is far stranger – and his plight has piled the pressure on cricket's governing body to stamp out corruption as quickly as possible.
Here is a young cricketer who appears to have given up his dreams of an international career because he became fearful for his safety and that of his family.
The big, unanswered question, on a day of confused and conflicting reports, is ... why?
If you take the story at face value, Zulqarnain claims to have been approached by men in Dubai, speaking in Urdu but not with Pakistani accents, who tried to get the player to fake his performance during matches in return for money.
The 24-year old felt unable to report this approach to either the Pakistan Cricket Board (PCB) or the International Cricket Council (ICC) and he was so scared that, hours before his country's fifth one day international against South Africa, he fled to Britain.
However, a Pakistan journalist who spoke to CNN's World Sport show, said that he had spoken to Zulqarnain on the phone and that the player is already regretting his actions. He has frightened his family as well as angering the PCB and now might be desperately trying to close the lid on the Pandora's box he has opened.
Either Zulqarnain is doubting how much danger he was actually in. Or he is realizing there may be repercussions to further damaging his country's already battered cricketing reputation. Whatever the truth, the ICC needs to act quickly and decisively.
If this is the latest example of a cricketer being preyed upon by a powerful, criminal betting ring then the sport is in a bigger mess than any of us realized. Imagine the outcry if an up-and-coming footballer went AWOL before a World Cup qualifier because they feared for their life.
Surely, fans and national associations would demand that FIFA maintains safety for the players? So why is the ICC taking such a cautious approach?
The governing body says this is firstly a matter for the PCB even though it goes to the heart of how the sport is run around the world. While the ICC is right to say it can only help if Zulqarnain contacts them, the onus is on the organization to create an environment where the player feels safe to do so.
Cricket's governing body and London's Metropolitan police are running separate but parallel investigations into allegations of match fixing and spot fixing in the sport. Maybe it's time to inject some urgency into that process.