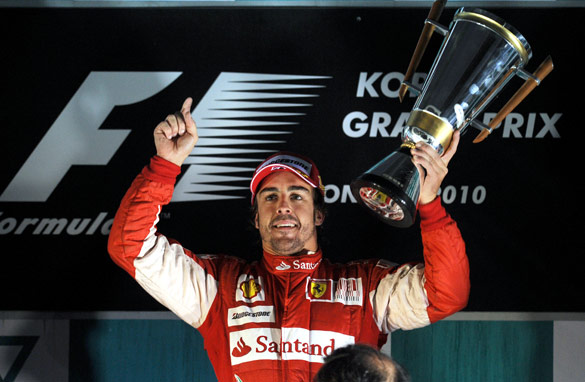 Fernando Alonso celebrates after winning the first ever Korean Grand Prix (Getty Images).
As a thrilling Formula One season hurtles towards the finishing line, Fernando Alonso sits in pole position for the world championship with only two more races to navigate.
The Spaniard can seal a third world championship at this Sunday's Brazilian Grand Prix after his consistency and late-season form have propelled him to the top of the pile.
It is hardly surprising that a driver of Alonso's standing is now within touching distance of Formula One's grand prize, it is the minimum requirement when representing a team as rich in heritage as Ferrari.
But it is a credit to his ability as a driver that he has been able to overhaul the super-fast Red Bulls of Mark Webber and Sebastian Vettel, clinching a victory last weekend after the Australian and the German both failed to finish in Korea.
It raises an interesting question.
When all the technology is stripped away, the cars removed from the equation and the legions of mechanics and technicians cast aside, is Fernando Alonso the most naturally gifted driver on the Formula One circuit?
Simon Arron, motorsport correspondent for British newspaper The Daily Telegraph, believes the two-time world champion has an undoubted gift for driving.
"All the evidence points to a guy with enormous natural talent" said Arron. "He reminds me of a terrier, he's absolutely relentless. When he's got his eyes set on something he just does not let go and over the course of a race his pace is absolutely relentless.
"When he has got something to chase he is an irresistible force. You can understand why Mark Webber is feeling the pressure because Alonso is on a roll."
Alonso's most recent victory, in the mentally-draining marathon that was Korea, is testament to his ability to stay focused when all around him seem to be falling apart.
Despite the considerable intervention of the safety car, the retirement of his Red Bull rivals and the torrid conditions, the self-assured championship leader was able to keep his head and guide his car over the line in first place.
In stark contrast to his young German rival Vettel, Alonso has also managed to convert strong qualifying performances into wins on a Sunday. The 23-year-old Red Bull driver has wracked up nine pole positions so far this season, but has only twice managed to win when starting at the front of the grid.
There have been no such problems for Alonso, who seems to relish the expectation that comes with pole position, transforming his three poles into three grand prix wins.
The 29-year-old has also shown his supreme capacity to produce his best performances under pressure. His recent run of three victories in the last four races has shown how he is able to find something extra when the chips are down, and as in-fighting engulfs Red Bull, Alonso has made a B-line for the top spot.
Even the burden of carrying Ferrari's legendary name has not weighed him down; he joined a list of drivers including the likes of Juan Manuel Fangio and Nigel Mansell when he managed to take maximum points on his racing debut for the Scuderia in Bahrain this year.
All in all, he seems to have all the attributes required in a champion, grace under pressure, the heart for a fight and an undisputed will to win.
So with two races left, Alonso has an excellent chance to complete a hat-trick of world championship triumphs, and after one of the most open title races in history, it looks like the talent will rise to the top.