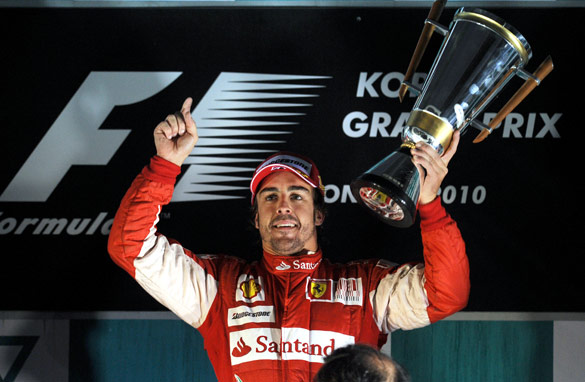 Fernando Alonso celebrates after winning the first ever Korean Grand Prix (Getty Images).
As a thrilling Formula One season hurtles towards the finishing line, Fernando Alonso sits in pole position for the world championship with only two more races to navigate.
The Spaniard can seal a third world championship at this Sunday's Brazilian Grand Prix after his consistency and late-season form have propelled him to the top of the pile.
It is hardly surprising that a driver of Alonso's standing is now within touching distance of Formula One's grand prize, it is the minimum requirement when representing a team as rich in heritage as Ferrari.
But it is a credit to his ability as a driver that he has been able to overhaul the super-fast Red Bulls of Mark Webber and Sebastian Vettel, clinching a victory last weekend after the Australian and the German both failed to finish in Korea.
It raises an interesting question.