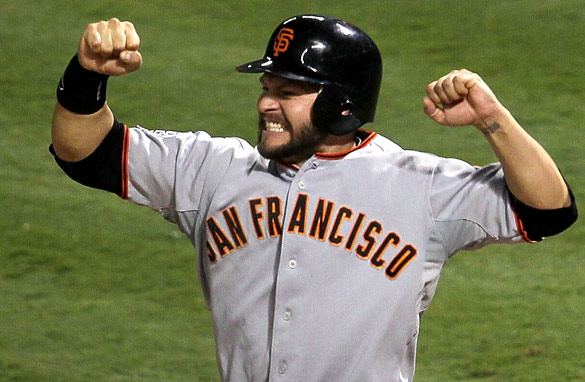 Cody Ross celebrates after scoring on a three-run hit by Giants teammate Edgar Renteria in Game 5 (Getty Images).
The Fall Classic came to an end Monday night, with the San Francisco Giants defeating the Texas Rangers in five games to claim their first World Series title since 1954. The Giants not only ended a 56-year wait for baseball's ultimate prize, but will notably bring the trophy to San Francisco for the very first time, having been based in New York for each of their previous five triumphs.
Although coming short at the final hurdle, the Texas Rangers also had a significant first this postseason as they reached their maiden World Series in team history. That's a massive achievement for a franchise that was founded in 1961 but had never won a playoff series prior to this season. The Rangers got that monkey off their backs by ousting AL East duo Tampa Bay Rays and New York Yankees on the way to the finals.
In spite of the Cinderella stories put on display by both the Giants and Rangers, many baseball pundits will argue that in order to be most successful, the sport needs the big-market teams to shine come playoff time. For example, the New York Yankees and Boston Red Sox pull in major media attention whenever they play and assure TV networks of good viewership.