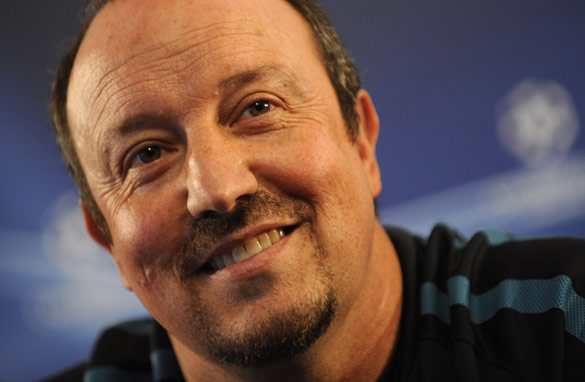 Rafa Benitez, Inter Milan's Spanish coach faces a testing time in his first season.
CNN's Pedro Pinto will interview Inter Milan coach Rafael Benitez on Thursday 4 November. Leave your questions for the Spanish manager at the bottom of the blog.
November could be a crucial month for Inter Milan and coach Rafa Benitez. By the end of it, the Nerazzurri will either have built the necessary momentum to have a successful season or see debilitating cracks appear that could lead to a premature ending of the Spaniard's tenure in Italy. That's how finely balanced former Liverpool coaches popularity is right now.
This week Inter will play English side Tottenham Hotspur at White Hart Lane. Hardly an intimidating venue for a club that has won three European Cups and has graced the greatest grounds on the continent in recent years, but the Champions League match against Spurs could nonetheless be a decisive one in Group A.
If they win, the defending champions will guarantee first place, therefore ensuring an easier draw for the first knock-out stage. However, a defeat could see them overtaken by Tottenham in the standings and facing the embarrassment of early elimination from the competition.
A fortnight ago, Inter were already warned of what their English rivals could do. Spurs, who were a man down and trailing by four goals at half time, stormed back after the break and nearly grabbed a point at the San Siro.
That valiant second-half display will give them belief that they can beat the European Champions at home. Faced with their biggest European game in several decades in London, the players, the fans and the manager will be ready throw everything including the kitchen sink at Benitez's side.
The Spaniard, having managed in England for six seasons, won't be rocked by the atmosphere, but it will still be a stern test of his team's true colors. Furthermore, he has to play in London without star goalkeeper Julio Cesar and inspirational midfielder Esteban Cambiasso, both injured over the weekend.
If that game is challenging, then what can be said about the contest scheduled for 15 November? That is the date of the season's first Milan derby with the Nerazzurri and Rossoneri locking horns at the San Siro. Without being dramatic, this is a must win game for Rafa. After Inter lost to Roma and failed to secure home wins over Juventus and Sampdoria, another unimpressive performance and result against another top Serie A rival will undoubtedly undermine his position as boss.
It may still be early in the season, but after the club enjoyed so much success with Roberto Mancini and Jose Mourinho, failure just won't be tolerated by their fans and the media. It's just that so far he hasn't been able to win them over and as a matter of fact he has been criticized for a pragmatic approach, and for relying too much on the goals of Samuel Eto'o.
In other words, the pressure is on. Watch this space. November could be a month that makes or breaks Inter's season.